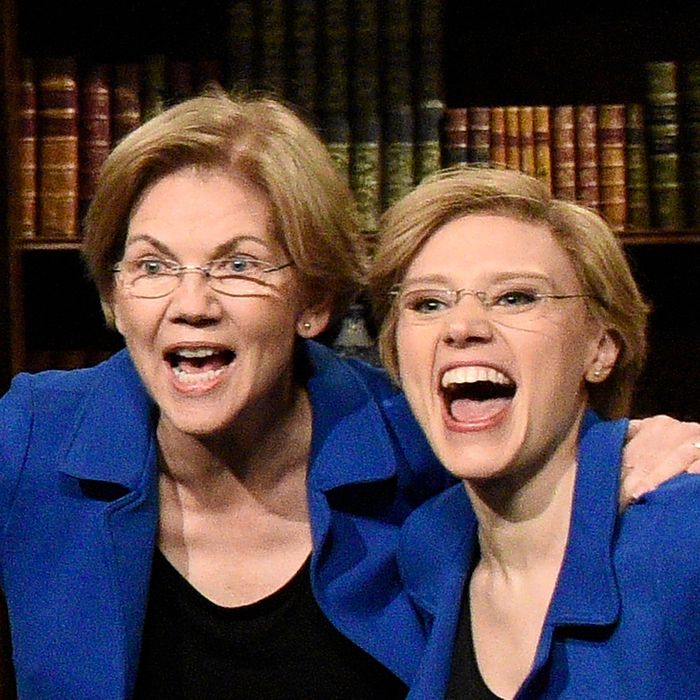 Elizabeth Warren and Kate McKinnon.
Photo: NBC/NBCU Photo Bank via Getty Images
Elizabeth Warren has dropped out of the presidential race and so her schedule is now clear for her to appear on Saturday Night Live and its TikTok account. The senator joined her doppelgänger, Kate McKinnon, for one TikTok only. The two chose the popular "flipped the switch" meme, where two people pose together, then they flip a switch off (blackout), and reappear wearing each other's clothes.
So technically, did they do the meme correctly? No, since they're wearing the same clothes. All that changed is their position. But, it's fun that Elizabeth Warren is on TikTok at all. Alexandria Ocasio-Cortez called the TikTok "legendary."
Warren appeared in SNL's cold open, which parodied The Ingraham Angle on Fox News. Kate McKinnon as Laura Ingraham introduced Warren as, "the woman who savagely murdered Michael Bloomberg on live television." Warren mostly thanked her supporters, but she threw in some jabs at Twitter and joked about her coalition of teachers. At the end of the sketch, McKinnon's Warren joined the real Warren to announce that it was, indeed, Saturday night. Warren joins a pantheon of politicians on SNL that includes Barack Obama, Donald Trump, and Hillary Clinton.
And if you're a true TikTok pedant and want to see the "flipped the switch" done right, Emily Ratajkowski used it to make her own TikTok debut, although she was wearing a Bernie Sanders T-shirt in one half of the meme and an American flag Speedo in the other.