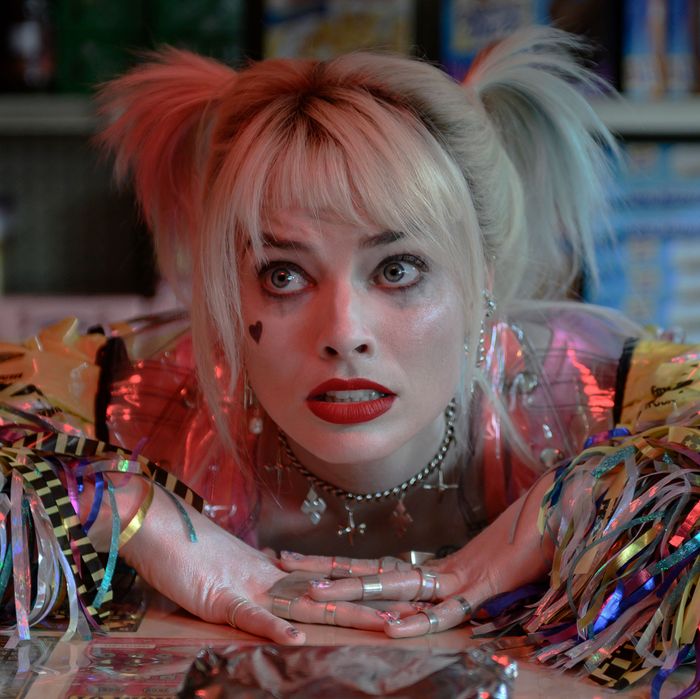 Photo: Claudette Barius/Warner Bros.
As an increasing number of Americans have been told to stay home for the foreseeable future, many have been looking for new ways to entertain themselves. Last week, we recommended pairing the infamously deranged film Cats while engaging in some extreme foot exfoliation. Some of you (including, perhaps, Seth Rogen) took our advice:
This week, I want to suggest something a little bit lighter and more fun: the film Birds of Prey and a whole bunch of glitter.
Birds of Prey is one of the handful of films that will be available for digital download today, March 24 (much earlier than expected, since movie theaters across the U.S. have temporarily shuttered). It features Margot Robbie in the role of DC's Harley Quinn, the once-girlfriend/accomplice to the Joker. The movie debuted to good reviews: Robbie, as usual, is a tour de force, and the action sequences — which usually don't do it for me — were sensational:
Birds of Prey also leans into a kind of carnivalesque, sparkly aesthetic that's unique for a superhero movie. The movie is positively soaked in glitter: There are actual glitter bombs, twinkling cityscapes, and, of course, Harley's costuming, a mess of metallic sequins and tinsel pom-poms.
If you find yourself with some time to kill, today's suggested pairing is, of course, glitter. Depending on what you feel like and the supplies you have on hand, you have some choices. The first: Do your makeup, and do it sparkly. I'm talking ridiculous, Euphoria-esque shimmer on your cheeks and eyelids; or take a cue from Birds of Prey's Huntress (Mary Elizabeth Winstead) who sports a smattering of spangled highlighter along her cheekbones.
While it may feel pointless to do your makeup while you're self-isolating, I'd argue that it's a rather good way to entertain yourself; plus, if it looks stupid, no one has to see. (If it still feels silly, may I suggest you take advantage of the look and finally make your TikTok debut.) If that's still not for you, maybe go for something more permanent, like a shimmery home manicure you can show off in your next Zoom meeting. Whatever the case, throw on this glitter bomb of a movie and dig up some of your sparkliest beauty products; I promise you it'll be more fun than doing push-ups.