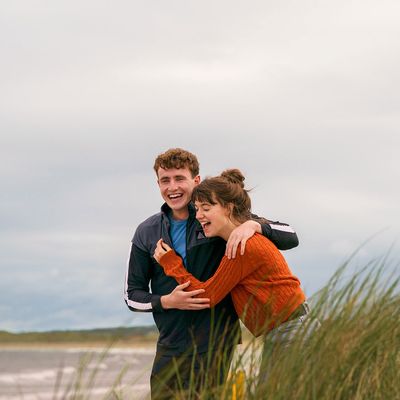 If you're not already drowning in the untenable horniness of the past several weeks (you know, the kind brought on by a combination of social isolation and an atmosphere of impending doom) then, boy, do I have something for you.
This something is the second Normal People trailer, courtesy of Hulu, which, like the first, is impossibly, astonishingly horny. The show, adapted from the book of the same name by Irish author Sally Rooney, is about all sorts of things: college, money, relationships, Ireland, abuse, and much more. That said, many people would agree that Normal People is acutely about being extremely horny, the kind of horniness that you feel toward one specific person. And it seems that the show — if we're judging by the trailers — is definitely leaning into this theme.
The trailer depicts the story's central couple — Marianne (Daisy Edgar-Jones) and Connell (Paul Mescal) — having hushed, desperate conversations in various forms of undress. Between these conversations there is a lot of kissing and petting, which happens in several different locations, including a car and a kitchen. What's more, in this preview some new horny people are introduced — ancillary boyfriends and girlfriends, it seems — and we are treated to some extra shoulder kissing, ice-cream-cone licking, and a half dozen more smoldering glances. The dramatic music overlaying the scenes makes things feel both sexy and harrowing (a mood, I'd argue, that is pretty in line with the emotional tone of our days now, which makes Normal People an even more urgent watch).
Unfortunately, we have to wait until April 29 to see the whole thing; just remember to order your vibrator before then.