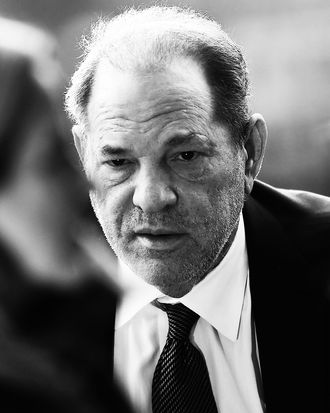 Photo: JOHANNES EISELE/AFP via Getty Images
After bombshell exposés on Harvey Weinstein were published in the New York Times and The New Yorker in October 2017, the former Hollywood producer reportedly sent a slew of emails to a group of powerful friends asking for help to rehabilitate his image.
At the same time, though, he apparently spoke with vitriol about at least one actress he believed to have been involved in the allegations: In a private email to his representative, Weinstein wrote that Friends actress Jennifer Aniston "should be killed" after he heard (incorrectly, it would turn out) that she had accused him of groping her.
This is according to the New York Times, which reported on unsealed court papers that were released on Monday, March 10. These documents were not presented to the jury as evidence at Weinstein's Manhattan trial two weeks ago, and included emails between the former producer with his representatives, friends, and his brother.
Emails included in the unsealed documents reportedly show Weinstein attempting to wield his influence in order to protect his image as the allegations against him mounted; per the Times, he reached out to powerful men including Apple CEO Tim Cook, Amazon CEO Jeff Bezos, and former New York mayor Michael Bloomberg for help after learning that board members at the Weinstein Company were thinking of firing him. "Let me take a leave of absence and get into heavy therapy and counseling … and allow me to resurrect myself with a second chance," one of the emails reads.
The Times describes these communications as part of an effort by Weinstein and his team "to portray him as a troubled man who badly wanted to right his wrongs." In an email to former New York Daily News gossip columnist A.J. Benza, Weinstein reportedly alluded to having been sexually abused as a child. In another unpublished letter the Times describes as "self-pitying," Weinstein wrote that he was suicidal.
In addition to the attempts to save his image, the email regarding Aniston reveals the apparent vitriol Weinstein held for those he thought had accused him of sexual misconduct. In a statement to the Times this week, Aniston's publicist Stephen Huvane denied that Weinstein ever assaulted her: "He never got close enough to her to touch her. She has never been alone with him. We have no idea about the email, since it wasn't sent to us, nor do we have any comment to make on it." A rep for Weinstein declined to comment.
In February, a New York jury found Weinstein guilty of third-degree rape and of committing a criminal sexual act in the first degree (he had pleaded not guilty to all five charges against him). Now 67, he faces a minimum of five years and up to 29 years in prison when he is sentenced this Wednesday.