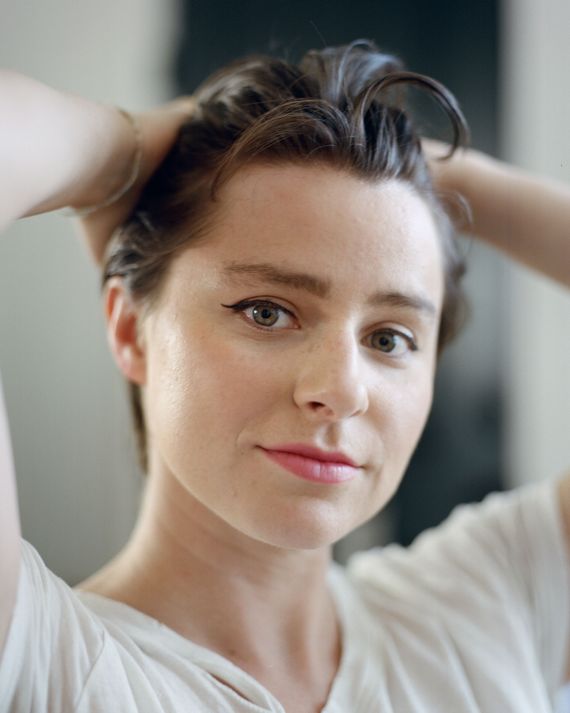 Lee Tilghman says her Instagram followers came to Lee From America for the drippy food content. They came for the buttery egg yolks, the clumps of gooey peanut butter, the tahini drizzled over veggies like a Jackson Pollock splatter painting. They came for advice on balancing hormone levels through "seed-cycling" and managing the symptoms of polycystic ovary syndrome through diet, to learn about sleep hygiene and oil training, plant care and adaptogens, meditation and intention-setting. They came for the #spon — or at least, they couldn't avoid it: the Outdoor Voices leggings Lee wore for her morning yoga flows, the "layered low-sugar smoothies" made in partnership with Subaru that, at her peak, she was peddling to over 370,000 followers.
I like to think I followed Lee out of some nascent drive toward self-improvement: the belief that one day I too would start clay-masking my armpits and sprinkling fresh cacao nibs into my yogurt, and all those implied bounties — mental clarity, physical fitness, wholeness of body and spirit — would follow. The truth is I know myself well enough to know I would never do these things, and following Lee often made me feel exhausted and more than a little relieved to be someone other than her. If I was invested in Lee's elaborate wellness journey, it was for reasons other than the hope her affinity for yoga and meditation would rub off.
Perhaps I should have examined my own motivations well before February 2019, when Lee disappeared off my feed, the viscous food and wellness porn vanishing along with her. It was five months before she returned to Instagram, in July, seemingly a changed person. The most immediate visual transformation was probably her hair.
"One of my followers said I looked like Jim Carrey, and I'm like, 'Uh, yeah, I know, I showed a picture of Jim Carrey to my hairdresser,'" says Lee Tilghman, running her hand through the fresh Dumb and Dumber bowl cut showcased in her first post-hiatus Instagram. "So many people are like, 'Do your hair to the side!' And I'm like, 'No, I love the bowl.' It's so curt and frank. It's like, Here I am."
The Lee I knew from Instagram lived in ab-flaunting crop tops; today, she is bundled up in fuzzy pink socks, flared pink corduroys, and a baggy white turtleneck, a gold necklace shaped like boobs dangling from her neck. Her wide hazel eyes, which shine with confessional intensity in her Instagram Stories, appraise me skeptically as she offers a handshake at the door of her apartment in Los Angeles's East Side one January morning. It's a greeting befitting two strangers, even if one of them feels like she's known the other for years.
Her rescue dog Samson circling our feet, Lee starts on a tour of her new home, asking only that we keep her bedroom off the record, describing it as a "sacred space" she never posts on Instagram. (A few weeks later, however, she shared a "morning routine" story from her bedroom, in partnership with Supergoop sunscreen.)
Lee's followers will detect the subtle domestic differences between her old place and this one. The former had a bohemian, DIY vibe, with an overflowing tangle of plants and a pillowy meditation corner — the kind of place that clearly required constant vigilance to remain camera-ready. Her new place looks instead like a brand's idea of tasteful, generic millennial aesthetic: a faded Persian rug, modern art in pale wood frames, chunky knit blankets. It seems easier to maintain than her old place, which she says housed over 50 plants before she gave most of them away. "A lot of that stuff reminded me of a dark place I was in," she says, curling sluglike under a thick white throw on a couch in the living room, Samson nuzzling against her foot.
The "dark place" Lee alludes to is her eating disorder, which she recently discussed in a Teen Vogue feature about the rising wellness backlash. Like a number of her fellow wellness influencers who have renounced their lifestyles (and the brands that made them famous), she is now saying that her focus on wellness was actually an unhealthy way of controlling her weight. "Lots has shifted over the past few months," she wrote without elaborating when she returned to Instagram this past July, "and you will see that reflected in my work moving forward." Of the next seven photos she posted, three were of Samson; the eighth was an ad. Her captions, usually so verbose, appeared sparse and withholding.
Many of her fans, particularly the ones who had incorporated her wellness tips into their own lives, were confused and hurt by the pivot, which seemed to come out of nowhere. "It just seems very inauthentic to build a platform and a community shedding light on very relatable topics many of us deal with, just to sell out," wrote one follower. "I miss her so much," wrote another. "I wish I could change all these new changes."
"People are like, 'You're saying [something different] now, how can we believe you?,'" Lee says with a shrug. "And it's like — people change."
Before her hiatus, the  Lee From America posts I clicked on fastest were the ones that provided little glimpses of darkness: about her reckless New York party-girl phase (since deleted) or references to her mental-health struggles. The fact that Lee let her followers into these vulnerable corners of her psyche — or at least appeared to — is partly what made her a character worth following, and I was intrigued by the shadow hanging over those brightly lit pictures of her life. During her hiatus, I found myself checking in on her feed, wondering if she was all right. The most morbid part of me hoped that whatever she was going through, she would eventually come back and start posting about it.
Before Lee was Lee From America, she was Lee Tilghman from Fairfield, Connecticut. She was a creative-writing student at St. Joseph's University in Philadelphia, where she had a blog, For the Love of Peanut Butter, about recovering from a serious period of anorexia that left her in a residential treatment center at the end of high school. After a while, though, she realized the blog was actually a way to remain close to her eating disorder, and she swung hard in a new direction, announcing the arrival of this new Lee with a Marilyn Monroe lip piercing: "I cut off the blog, I dyed my hair purple. I started smoking cigarettes," she says. "I started working on farms. I was like, Fuck capitalism. I was trying to find myself." (Later, she told the Cut that these things happened at different points throughout her life and denies ever having an anti-capitalist streak.)
She did not find herself on those farms; or if she did, she decided to shed that self too. After graduating from college in 2012, she got a job working in finance in Manhattan, where she became immersed in the EDM nightlife scene. Today, the only traces of Lee the Raver exist in the frenetic, limb-flailing dance videos she sometimes posts to her stories. (In the past, she has spoken about having an unhealthy relationship with alcohol and drugs during her time in New York, and she is now sober.) She held a job as head of marketing for a restaurant group while starting her food blog on the side, right as the wellness wave was beginning to crest.
Lee From America launched as a blog and an Instagram in 2014. Lee came up with the name after coming across someone on Instagram whose handle was something like "John From Poland" ("I was like, Hey, I wonder if 'Lee From America' is taken?"). It took off in earnest in 2017; she estimates she gained around 100,000 followers that year. "I used to check my following count all day, like I was checking stocks or checking a scale," she says. "When you're growing that fast, it's electrifying."
What started largely as aspirational smoothie bowls soon began to extend its tendrils into more esoteric corners of the wellness world, and her lack of formal credentials was just another selling point. In 2016, she was diagnosed with PCOS; reluctant to go on hormonal birth control, which can help alleviate symptoms in some women, she increasingly became one of the loudest voices in an online community attempting to manage symptoms through fitness and diet. She posted sponcon for fertility trackers (since deleted) and extolled the virtues of "seed-cycling," a wellness trend that involves consuming different seeds throughout the menstrual cycle in an effort to balance the body's natural production of estrogen and progesterone. (There isn't much science to back it up, but some women have claimed it helps with health issues like PCOS and chronic fatigue.) When she hit upon a topic that resonated with the members of her audience, their "likes" and supportive comments incentivized her to double down and make that thing a bigger part of her brand. Lee was engaged in a dynamic feedback loop with her followers — the guru spreading wisdom to her acolytes, her acolytes asking for more wisdom in turn.
By the time she realized she had a problem, Lee From America was not a little college blog but a wellness behemoth, flush with collaborations with major brands like Adidas, Nordstrom, and Alaska Airlines. Being sick was good business.
And what about us — the audience to Lee's high-wire one-woman show? Even if we didn't know exactly how Lee was suffering, we must have known deep down that she was anything but well. It was all on her feed and her blog, from posts about her history with body checking and binge eating (since deleted) to regular bouts of self-doubt and anguish (though these confessions were positioned not as a cry for help but as the kind of radical honesty that was helping her move forward). So why did we ever buy into the myth that Lee had found any sort of path we should follow?
In what has now become a familiar part of the Instagram lifecycle, as Lee's following ballooned, so did the levels of scrutiny. In the fall of 2018, she planned a Matcha Mornings Workshop series in a few cities; general-admission prices were as much as $500 in some locations, more for a VIP ticket that included a meal with Lee. People were outraged by the prices, accusing her of caring more about making money than serving her "community." Others called her out for white privilege and cultural appropriation. She responded defensively, leading to more backlash. "I had never heard the words 'white privilege' before," she says now.
Four months later, around the time she was planning to take one of her regular brief Instagram breaks, which never lasted more than ten days — "you guys KNOW how I love my digital detoxes," she wrote in February 2019 — her apartment flooded, requiring her to move out suddenly. Without the structure of her Instagram and her familiar living space to distract her, she says, she understood how bad her eating disorder had gotten. With urging from her therapist, Lee entered treatment, and, without explanation, @LeeFromAmerica stayed dark.
Later that day, I met Lee and Samson, whom she adopted just before her hiatus in December 2018, for a walk around the Silver Lake Reservoir. I got the sense she couldn't wait for me to get out of her personal space that morning, and while she politely obliges my questions, our walk feels a little more like a marathon than a leisurely stroll. Samson is alternatingly compliant and rambunctious as Lee disciplines him with a firm hand. "Samson, STOP IT. Look at me!" she says as he yanks her in the direction of an intriguing pee smell. "Honestly, if I could just post pictures of Samson now, I would," she adds, pulling a handful of cheddar cheese from a bright-turquoise fanny pack and shoveling it toward Samson's sandy snout. "I'm like, Should I be just a dog-training influencer? Literally, that has gone through my mind."
Since her return, Lee's has continued to post pictures of Samson. Plus, photos of herself, her new apartment, close-ups of her manicure. "I feel like I'm still trying to figure it out," she says. "What if I just share what I want to share and not worry about what it looks like?"
She often turns off comments and keeps up a steady stream of sponsored content (which, unlike her old ads, clearly sound like ads). In October 2019, three months after her return, she posted one of her more illuminating post-hiatus pieces of content: a blog post that elaborated on her long absence and described her unhealthy fixation on eating healthy. Orthorexia, she wrote, "is understudied and some question its validity. It's not in the DSM-5 yet but I know it will be soon."
Otherwise, her content feels almost performative in its nonchalance. As average users are cosplaying as influencers, she's cosplaying as an average user. Since her return, she's experimented with briefer, more basic captions, like "i could stare at this good boi face all day" and "felt cute for sure 100% am not gonna delete later." She's branched into YouTube, kept up her silly dance videos. She says she's doing things in her spare time that she never did before, things that don't need pride of place on the grid. Watching TV, hanging out with new, non-influencer friends.
I ask Lee if she feels like she knows who she is as a person, and her jaw tenses. "Yeah," she says, her back molars crunched together like Legos. "Do you?"
I tell her I think I do, though it's certainly a transitional age (both Lee and I were 29 at the time of the interview; she recently turned 30). She proceeds to rattle off the things she thinks make her her, including but not limited to her love of singing, dancing, drawing, Netflix (she just got a TV for the first time), hanging out with friends, reading, eating, babies, dogs. She recently tried getting into the Sally Rooney books, but "didn't understand the hype."
Later, I ask again why she thinks so many people have chosen to follow her, and she gives an answer that feels a bit more elucidating. "Well, I'm very driven," she says, steering Samson back onto our path with another fistful of cheese. "Once I want to do something I do it. One might say that those extreme qualities can work in my favor, and I believe that."
"A lot of the mental-health professionals that I work with say things like Instagram isn't built for moderation, which always sticks with me," she adds.
Lee knows that this peaceful stream of dog photos and nail art isn't ultimately sustainable if she wants to keep Instagram as her full-time job. While she has new relationships with wellness-neutral brands like Aerie and Schmidt's Natural deodorant, she isn't making close to what she used to make, and that amount is sure to decline if her following does. (She says she's lost around 50,000 followers so far.)
From a financial standpoint, the obvious move is for Lee to once again don the identity of the Recovered Girl, to fully embrace the wellness-backlash. Dr. Lauren Muhlheim, an eating disorder specialist, thinks such a shift could be positive. "I definitely follow some bloggers who were diet and fitness people who have now embraced health at every size and are able to turn their platform into something good," she told me.
But while Lee's desire to share her own post-wellness journey feels well intentioned, she's also saying she didn't know what white privilege was until the end of 2018, let alone how the wellness industry celebrates thin white bodies like hers at the exclusion of everyone else. Lee's first post-hiatus gaffe was earlier this year, after she posted an Instagram story criticizing Michelle Obama's book Becoming for what she perceived as its focus on diet culture (as First Lady, Obama promoted healthy eating initiatives).
Lee says she thought about extending her Instagram hiatus and going to work for a brand that doesn't have her name on it, but she's not ready to give it all up yet. "My treatment team is always like: We're so interested to see what you'd be doing if you weren't doing this blog," she says wistfully.
At many points in our conversation — and while writing this piece — I've wondered whether the ethical thing to do is to unfollow Lee, to take one pair of prying eyes away as she tries to reckon the previous versions of herself with this one. But while that might make me feel better about myself, it's not at all what Lee wants. She doesn't want her audience to abandon her. Instead, she wants us to keep apace with her changes and recalibrate whatever our intentions were when we added Lee From America to our feeds. She wants people to follow her for the right reasons, and to be liked for her authentic self — whatever those are, whoever that is.
"It's funny because it's like: Am I falling back back or am I taking a step forward?" she says about logging back in to Instagram, which she told me she did at a park, in the presence of friends. "I'm also trying to remember that maybe I'm paving the way for someone who might be watching what I'm doing and feeling stuck and being like: Oh, I can do what she's doing."