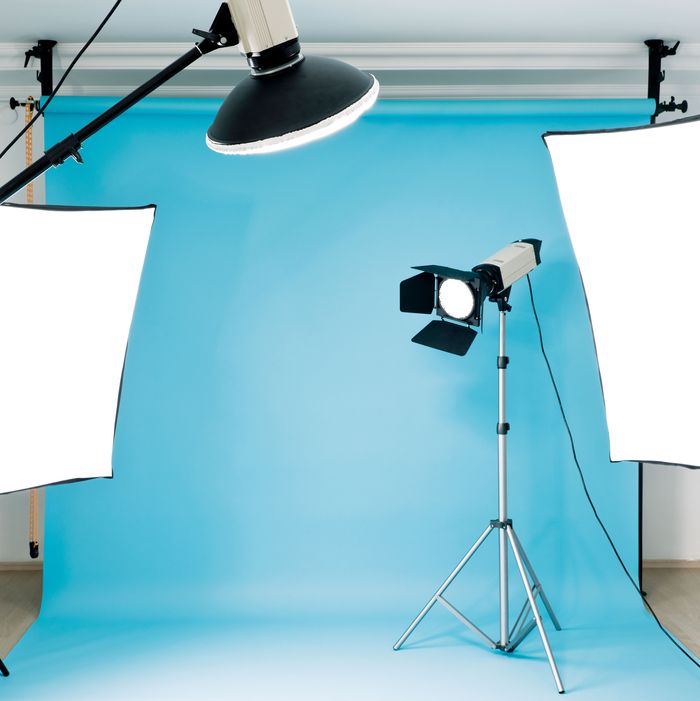 On set, or not.
Photo: ozgurdonmaz/Getty Images
Fashion magazines, in the best of times, are about selling fantasy. It's a hard sell to make from the confines of your apartment.
Editors, stylists, and brands were in the midst of shooting summer fashion issues and starting to receive fall samples when COVID-19 put an abrupt halt to most, though not all, of the works in progress. Fashion professionals are struggling to adapt on the fly to a new reality of uncertain duration, when the old ways of producing fashion images — sending samples, photographers, subjects, and a phalanx of hair, makeup, styling personnel and their assistants around the world to collaborate, spending what can be tens of thousands of dollars on a single shoot — are no longer feasible, possible, or safe. Those who are freelance, outside of the safety net of a staff job, are contending with current work being postponed or canceled and even weeks-distant upcoming projects put on indefinite hold, a precarious position to be put in with no clear resolution.
Fashion shoots have been undergoing contractions for years, squeezed by shrinking budgets and a ravenous demand for more content (Instagram, video, behind the scenes) from each. The glory days of sending an editor, a trunk of clothes, and a model to a remote beach for days or weeks at a time is rarer than it once was, though by no means entirely past. Environmental and climatological concerns have pressed in too, making a more conscious generation of editors wonder about the ethics of jetting all over the globe to get the shot. But the challenges of the present moment are likely to only accelerate the change.
"The magazines aren't shooting," said one publicist, who requested anonymity because they were not authorized to speak on behalf of their company. "People were very overzealous, and then I think the reality sunk in."
Coronavirus has not entirely halted production. Some magazines are still sending requests, and shoots for The Wall Street Journal's WSJ. magazine and Esquire are scheduled for this week — Esquire's a cover shoot in L.A. using local talent and styled remotely. But most shoots, several PRs said, have already been canceled. IMG Models, which represents many of the industry's top models, including Bella and Gigi Hadid, Ashley Graham, and Amber Valletta, declined to comment on whether they were still sending models for shoots or under what parameters. The Society, which represents several more, including Kendall Jenner, Willow Smith, Winnie Harlow, and Adut Akech, did not respond to a request for comment.
"We were in the middle of commissioning the last issue of the season, the summer issue," said Emma Wyman, the fashion director of Dazed + Confused. The magazine is currently closing its spring-summer issue and has not yet decided what to do about the next. The well-being of its contributors — both physically and financially — is top of mind. (Editorial shoots pay a pittance compared with lucrative advertising and brand work.) "It's very socially irresponsible to be asking anyone to contribute right now," she said, "and we're brainstorming creative solutions to commissioning and producing in the future. We're not sure about what we're going to do about our autumn issues. I think most publications are wondering about this." (She added Dazed has every intention of creating a magazine for the fall season.)
Publicists are wondering too. While samples — which are made available for magazines and retailers to photograph before the full sales collection is produced — have begun to trickle in, the flow is less than it would otherwise be, and the publicists who traffic them are having to engineer work-around solutions to the complicated dance of getting pieces to sets that may be across the city, the country, or the world. "'What will your fall-winter sample availability be at the end of the month?'" one publicist said, parroting an email from a magazine. "How would we know? We don't know what's going to happen tomorrow. It changes every day." Between nervous companies on one hand and nervous editors on the other, "I'm playing the role of therapist and news agency," this person added.
As late as midweek, several of New York's major fashion PR companies were open and operating with reduced in-office staffing. "Taking the lead from how our offices in Asia have been operating, our teams are in constant communication to ensure we are working strategically while remote," Alexander Werz, the CEO of Karla Otto International, which represents clients including Off-White, Jil Sander, and Erdem in the U.S., said last week. "Should there be a shoot, no matter for which region, or a client shipment need, we have processes in place drastically limiting the amount of staff and time in the office. We've seen an incredible amount of collaborative spirit among our global teams and clients alike, which is essential as we work through this time and beyond." But Governor Andrew Cuomo's executive order, effective as of Sunday evening, that all nonessential businesses in New York close their doors, complicates matters still more.
Both Hearst and Condé Nast, two of the largest magazine publishing companies — between them, they publish Vogue, Elle, Harper's Bazaar, Marie Claire, Allure and Vanity Fair, among others — said they had no current plans to cancel issues. For independent magazines, the choice may not be as clear-cut.
That said, even the largest companies are having to engineer new processes. Expect more user-generated or supplied content than usual in upcoming issues — asks have already been made for designers and fashion pros to send images from their self-isolated quarters.
Will this interruption — however long it may last — end up meaningfully altering the M.O. of fashion shoots in a more permanent way? At this point, too soon to say. Questions of sustainability and environmental impact have already begun creeping into the conversation around shoots (though more slowly than the climate crisis should require), and the COVID-19 disruption will likely only push discussions of responsible shooting further to the fore. "It's about thinking about local teams and commissioning in a different way from where we would usually commission," Wyman said. "Of course, there's talent all over the world that everyone wants to feature. That will remain an important aspect of both the magazine and digital. But how we produce shoots all over the world is going to have to change."