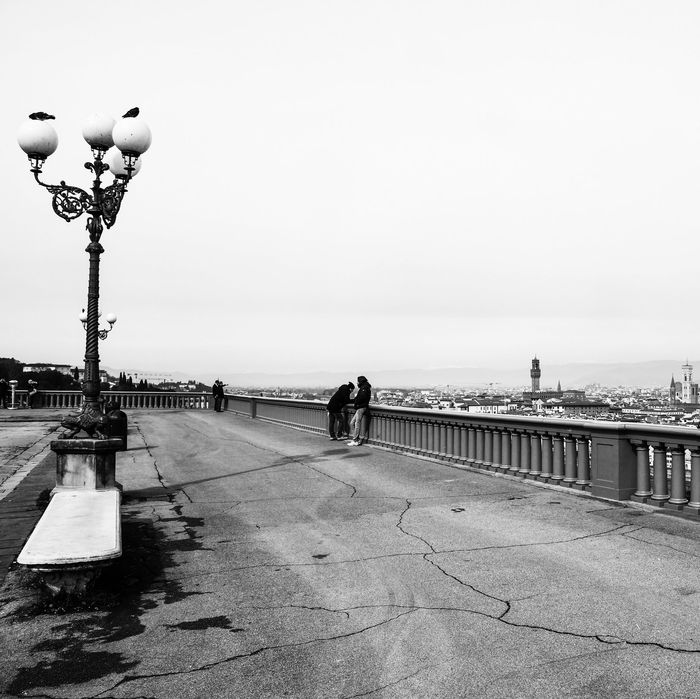 Photo: Carlo Bressan/AFP via Getty Images
Please note the story you're reading was published more than a day ago. COVID-19 news and recommendations change fast: Read the latest here to stay up-to-date. We've lifted our paywall on all essential news and updates about the coronavirus.
It feels like it's just around the corner: the moment when New York City fully shuts down. While events are being canceled and cultural institutions shuttered, many New Yorkers are still out on the streets keeping up some semblance of their daily routines. For now, there are still people in cafes hunched over their laptops, still annoying crowds of tourists to navigate in Soho. But as the virus approaches a tipping point in New York and the U.S. in general, that probably won't be the case for much longer. For a look at what living in a city under lockdown could be like, we spoke to Luca, a 30-year-old hotel employee in Florence, Italy, where the entire country has been placed on a two-week hiatus to contain the rapidly spreading virus.
When they first talked about the coronavirus in Wuhan, everyone was pretty skeptical about it. Then suddenly it was on the news that the biggest outbreak in Europe was in Italy, and still people were pretty skeptical about it. But then the cancellations started coming in.
Up until a few days ago, I was going to bars, though there were a lot less people there. We weren't going to clubs, but we would go out and have an aperitivo. I had people over, I went snowboarding. But then there was news of more and more cases, and the prime minister decided to shut everything down. First they closed off the Lombardy region, and now it's all of Italy. It's going to be like this until the 25th of March. So for two weeks, everything's closed except supermarkets and pharmacies. And then, on the third of April, they said that they want to lift the red zone, which means being able to travel around the country. If I wanted to go to Milan right now, I couldn't. We're just waiting and seeing. That's probably the worst part of it, having to wait and see. We're powerless.
There's a lot of police doing police checks making sure people are keeping to the self-isolation rules. Now they're saying the first fines are being handed down, because a lot of people are just going places anyway. Especially the older generation still wants to do whatever they were doing before. Right now everyone my age is mostly worried about their parents and their older family members.
It's really ghostly here. I was talking on the phone with a friend in Vancouver the other day, and I could hear she was in a cafe, and I could hear people talking and music, and that made me pretty sad. I haven't heard that here at all in the past few days. It's eerie, the silence. Now I really pay attention to it. Walking around, it's like a deserted city. I do have to walk the dog every day, and there are a couple of people here and there — pet owners and people with masks and police cars.
I work in tourism, but now I can't work. There are no guests in the hotel. Who knows how long it'll be? It could be another two weeks or another two months or more, and we're approaching tourism season. Some of my friends have businesses that are failing. There's a woman who has this this amazing brunch place that all of the American tourists go to because there's no brunch culture in Florence. She was going open a second one, but then this shit started. They had already put a deposit down, and they lost their deposit. You can't keep a restaurant open and pay the rent if you don't have any guests.
I recently went through a breakup, and I definitely wish I had a significant other to spend this time with. Being single and quarantined isn't fun. The dating scene in Florence is really tourism-oriented. Social dating apps are all about meeting travelers and people visiting. That's all completely gone because you can't really leave your house now. I open a lot of chats with "How's quarantine going for you?," and we usually end with "Well, maybe see you in two weeks."
I just discussed with two friends having them come over to chill and play Catan, and I don't think anyone felt comfortable enough leaving the house. It's kind of a patriotic thing where it feels like you're betraying the trust of the Italian government. It sucks to be forced to be at home. But at the same time, I saw a meme the other day where they asked our grandparents to go fight wars, and they're asking us to just sit on the couch.
My mom was saying that she's using this time to reflect. It feels like a pause. It's time for you to really do some soul-searching, I guess, and think about life and what you want to do when this is over. It's made me want to go to work a lot more. It definitely pushes you to feel like: let's just get through this and then try to keep going.