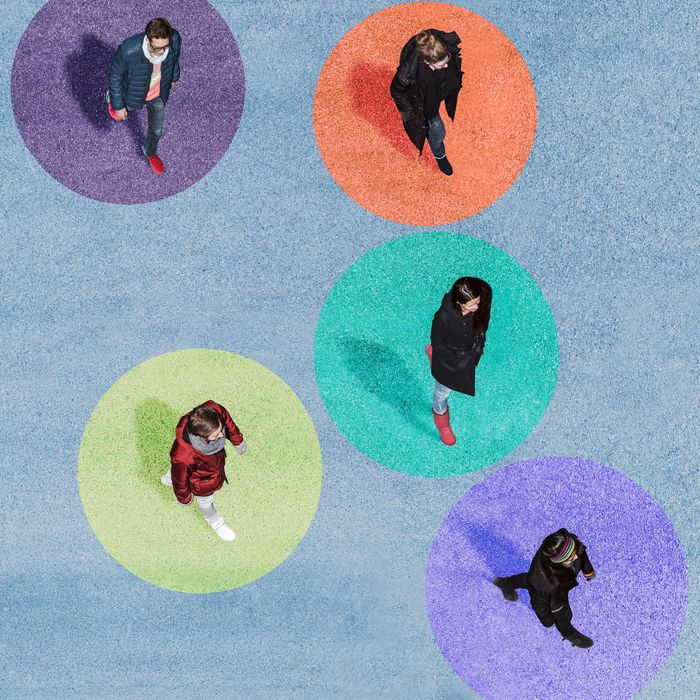 Photo: Bernhard Lang/Getty Images
This article was featured in One Great Story, New York's reading recommendation newsletter. Sign up here to get it nightly.
For the past five years, I have been living alone and (mostly) loving it. I am a writer who has gradually accumulated enough self-knowledge to know that I work best in isolation, but even when I'm not actively wrestling with a new piece, I've learned that I sometimes require more solitude than the average person to recalibrate, stay sane, and follow my curiosity toward the next idea. I have my moments of loneliness, sure, but by and large I have spent my late 20s and early 30s rejecting the idea that a single woman who lives alone is somehow unfulfilled or incomplete, waiting for something else to happen.
My apartment is a social hub when I want it to be — I love hosting movie nights, small get-togethers, and out-of-town guests — but I also savor the moment when company leaves. More than anything, my apartment has become my sanctuary, a place where I can watch and listen to what I please at all hours of the day, do the dishes when I feel like it, and fill the space with idiosyncratic knickknacks to which a more aesthetically minded roommate might understandably object (a large foam middle finger, a prominently displayed Gritty stuffed animal, a framed copy of a Barbra Streisand record on the cover of which she is not wearing any pants.) Taylor Swift and her beau might revel in the subversive thrill of leaving the Christmas lights up until January. I have begun leaving my tiny tree up year-round and passing it off as an indoor plant. This is my place; I make the rules.
But in the past week, as the coronavirus has transformed life as we know it, many of us are finding that our old rules need some revision. I have been self-quarantining since Thursday night, after learning that someone I've been in contact with tested positive for the virus, and given the pandemic's rapid escalation, I can see no clear end point to my self-isolation. Once I hit that fabled 14-day mark from exposure, will anywhere worth going to be open? And so here I've sat with all the unread must-read-before-you-die novels I've still not cracked open, a dwindling supply of food and drink, counting down the hours until the mail arrives just to give me something to do (don't worry, I wash my hands thoroughly after opening it.) It's been a daily challenge not to let my anxiety get the best of me, but I've been getting by with a little help from my friends.
For example, I would not have known to self-quarantine in the first place had it not been for the kindness of a casual friend named Ric. On Friday, I woke up to a text from him letting me know that someone we'd seen at the art opening where we'd briefly run into each other on Sunday night had tested positive for COVID-19. The venue had posted a note on Facebook, and another friend had reposted it to Instagram, but in recent years I've quit both of those platforms in a probably feeble attempt to reclaim my privacy and 21st-century personhood. "Not sure if you saw this, but I wanted to flag," Ric said. "Stay safe." It was a modest gesture — I wasn't even sure he had my phone number, so he may have had to take the extra step of asking a mutual friend for it — but because I am someone who often slips through the cracks of the social-media algorithm, it had an outsize impact on me.
"The new coronavirus makes vivid the logic of a world that combines a material reality of intense interdependence with moral and political systems that leave people to look out for themselves," the Columbia Law professor Jedediah Britton-Purdy wrote recently in a piece for Jacobin. Something I have been realizing over and over again this week is how much better we — small, interconnected groups of people — are at taking care of one another than the large, impersonal institutions into which we are so often asked to place our trust: the Government, the Corporation, the Algorithm. And contrary to popular belief, we're often so much more efficient in providing care than those institutions are, too. For days, I'd been telling myself that when I finally started running low on food and supplies, I could just order them from one of the many grocery delivery services. On Sunday, low on a few essentials that had slipped my mind during my last Target haul (trash bags, dish soap), I spent half an hour filling a Wegman's Instacart — only to find, at checkout, that their first available delivery time slot was nearly a week away. I messaged some pitiful emoji to one of my group texts (specifically the one that is lamenting the delay of the baseball season and hoping we will get a rain check on our promised Jacob deGrom bobbleheads).
"Do you need anything?" my friend Talya immediately replied. "We can cruise to you."
I'm almost ashamed to say that my first response was to bat away this offer: "Aw, thanks, but you guys are pretty far away!" Luckily, Talya and her partner, Nick, called my bluff. "We have a car. It's like a 20-minute drive." And so I sent them a wish list, and even from Queens, they arrived with an expediency and a personal touch that would have put Amazon Prime to shame. Of course, I would have done the same for them, and in these uncertain times, they just might get the chance to take me up on that offer soon — we all need ways to feel busy right now, and taking care of friends feels like a particularly decent use of our time. We foot-bumped in my building's vestibule as I mouthed a profuse thanks through the glass door. When I got back to my kitchen and saw that they'd correctly interpreted my request of "cookies" to mean "several different kinds of cookies," I nearly wept. Friends just know.
It's easy to teach yourself how to be independent when you are single and live alone, especially in a society in love with the Emersonian myth of self-reliance. But left unchecked, a healthy self-sufficiency can calcify into something more brittle and unwelcoming. As my therapist would tell you — and will probably tell me; we're having a session over Zoom tomorrow — even though I'm surrounded by a strong support system of friends and family, I'm pretty terrible at asking other people for help. Our individualistic culture ingrained in me, from a young age, the notion that relying on other people is somehow an admission of weakness. My quarantine is providing plenty of opportunities to prove that wrong.
To those of us who have found unexpected and even life-affirming connections in the midst of the terror of this pandemic, the suddenly ubiquitous phrase "social distancing" can sound a little ironic. "Yesterday I talked on the phone with 8 friends and family members for a total of 8 hours," the essayist Briallen Hopper tweeted on Sunday morning. "I don't know if this is sustainable, but it's sustaining. #socialclosening." Incidentally, I'd just been revisiting Hopper's collection from last year, Hard to Love, which begins with a beautiful manifesto of interdependence titled "Lean On." "Emerson believes in self-made men, but I experience myself as someone formed and sustained by others' love and patience, by student loans and stipends, by the kindness of strangers," she writes. "Emerson thinks of people as independent individuals, like an orderly orchard of freestanding trees, but I see them as an overgrown tangle of undergrowth, mulch, mushrooms, and moss[.]"
During my quarantine, I too have been experiencing a kind of social closening, aided by creative uses of new technology. On Saturday, I had so many FaceTime plans that I found myself moving a few of them to later in the weekend; "My virtual social calendar is really filling up!" I texted one friend, quite sincerely. My best friend Lauren's 3-year-old son Jack — who so far believes he's just on a "five-week spring break," she mouthed to me with wide, deadpan eyes — "served" me Play-Doh ice cream cones through the phone screen until I was "full." It almost made up for the fact that I didn't have any stashed away in the freezer. Later that night, via Google Hangout, I watched Goodfellas with two of my best friends, Larry and Abby, who were so horrified that I was running low on wine and offered to remedy the situation sometime this week. We did a countdown and pressed play on Netflix at the exact same time. When their cat knocked down the receiver during the scene when Joe Pesci shoots Christopher from The Sopranos, I dutifully hit pause until they were resituated.
The weeks ahead feel dizzying and ominous; like a lot of us, I'm trying to take things one day at a time. I feel despair when I watch the news or scroll through my endless Twitter feed, seeing constant confirmation that our government, our economy, and our digital platforms are, even in a time of crisis, engineered around maximizing profit rather than care and well-being. But I have also never felt so acutely the radical nature of friendship, solidarity, and interdependence. Like Hopper, my friends and I are learning to close the cracks in our broken systems by practicing "mutual, broadly distributed leaning: to depend on care that [is] neither compulsory nor conditional, and on lavish, unrationed, unanticipated kindness." I can't wait to throw them all a party when things die down. But for now — however long that turns out to be — this kind of care will suffice.
Please note the story you're reading was published more than a day ago. COVID-19 news and recommendations change fast: Read the latest here to stay up-to-date. We've lifted our paywall on all essential news and updates about the coronavirus.