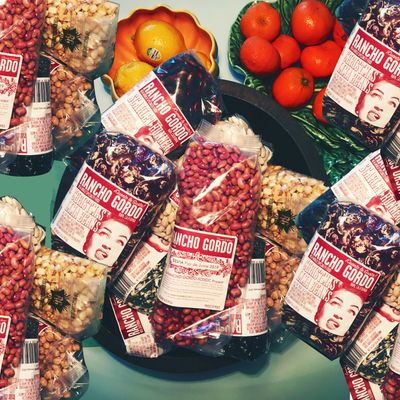 Beans, beans, beans.
Photo-Illustration: by The Cut; Photo: Matthew Schneier
There is a pot of Christmas lima beans simmering on the stovetop. It isn't Christmas. I am at my office, which isn't an office. It is my kitchen. The office is mostly closed. It is one of many.
This week has been scary for workers in New York, where the coronavirus pandemic has shut down workplaces, schools, colleges, and many public gatherings. At the stores, there's been a run on disaster-time sundries. Good luck finding a bottle of Purell — a CVS staffer just laughed when I asked. The doomsdayers among us are sharing their grocery lists: all things canned, tinned, dried, non-perishable, shelf-stable. The panicky are buying toilet paper (why?). The prepared are buying beans.
These are boom times for beans. The rise of plant-based eating and the concern over meat's carbon footprint have moved beans from the gassy periphery to center stage. They now have pride of place on restaurant menus, given roaster and roster real estate that once would've gone to a rib eye. The doyennes of millennial home cooking, Alison Roman and Samin Nosrat, both love them (Roman: "Some people bring back magnets or shot glasses as souvenirs from trips they take. I like to bring back dried beans"). "Everyone loves beans," this website declared last year. "I think beans have become hip, in a weird way," says Laila Gohar, who has created surreal food "installations" for Tiffany & Co., LVMH, and the Frieze Art Fair. "People are freaking out politically, the whole climate crisis is insane. More than ever, people just want comfort." Gohar recently bought a 10-pound bag of dried Borlotti beans from Iacopi Farms in California and has been parceling out extra to gift to friends. "It's more in the spirit of unity and 'we're all in this together,'" she says. "Not actually because the world is going to end."
But on the off chance the world does, plenty of people are stocking their larders. If beans were last year's go-to ingredient for home cooks, as Eater declared in December, they look even more useful now. Nutritionists recommend them for stockpiling; Padma Lakshmi told the Washington Post that white bean chili would be her quarantine cooking recommendation. At one Brooklyn Trader Joe's this week, the shelves of canned beans were significantly depleted, if not yet cleared. Canned beans can be great, but they often taste predominantly of can. Dried beans, provided they're not years old, are the easiest, and most lockdown-friendly substitute imaginable: They're barely harder to cook than pasta, all they require is a slow simmer and time. For the artisanal quarantine, only an artisanal bean will do. (There is a class issue inherent here — a $5.95 pound of designer beans versus a sack of Goyas. But dried beans triple in volume when cooked, so a pound of $5.95 beans will still cost only around 49¢ per serving, before aromatics — even expensive beans are one of the best bargains in town.)
According to Steve Sando, the founder of Rancho Gordo, a heritage- and heirloom-bean purveyor and a tireless evangelist for bean cooking, sales are up 70 percent this year over the comparable period last year. The company has been in overdrive since Christmas, and in the last two weeks, orders have skyrocketed. "A really good day for us is about 150–200 orders," Sando says. "We've continually done over a thousand every day. For the last two weeks it's the corona. It's just so big. People laugh, saying, 'We're ready for the zombie apocalypse.' But they are doing it." It's a perfect storm of beans trending and virus fears, Sando says, but he noted that there was a significant sales spike following Trump's coronavirus address to the nation on Wednesday night.
My Christmas lima beans are from Rancho Gordo — so are my Scarlet Runners, Good Mother Stallards, and Black Caviar Lentils. Not to brag, but I am one of 8,500 members of Rancho Gordo's quarterly bean club, a subscription that delivers 6 pounds of beans and grains to my door. It used to seem excessive for a one-man household. Suddenly, it seems prescient. According to Sando, interest is far greater than what he can currently accommodate. The 8,500-strong bean club has a wait list of 8,000 more.
In Napa, California, where Rancho Gordo is headquartered, Sando has been bringing on temp labor to help the company stay on track. "We're mildly freaked out, in a great way," he says. "We're kind of right in the middle of it, we haven't had a lot of time to reflect, we're just reacting at this point. There's a real chance we're going to be up a creek before our next harvest." He is adding another warehouse work shift starting Monday, and some varietals, like the Good Mother Stallards, are already sold out.
The top seller, ironically or not, is a giant, thick-skinned runner bean apparently impervious to branding issues. "Believe it or not," Sando says, "Royal Coronas are number one, still."