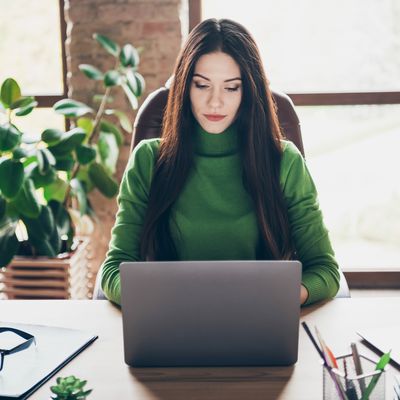 Photo: Deagreez/Getty Images/iStockphoto
Please note the story you're reading was published more than a day ago. COVID-19 news and recommendations change fast: Read the latest here to stay up-to-date. We've lifted our paywall on all essential news and updates about the coronavirus.
Remember pants?
If you've been following CDC recommendations and staying inside as we ride out this coronavirus pandemic, chances are you've been videoconferencing with friends and co-workers, who only see you from the waist up. I haven't seen the bottom halves of anyone's bodies in days.
The good news is that you only have to get half-dressed, but what to wear on top? What's an outfit that says, "I am alert and able to exert a bare-minimum effort from my kitchen table?" Or, if you're in a meeting with 15 other people and want to stand out, what's a top that screams, "Please give me something to do!?"
The answer is, as always, just wear a turtleneck. First of all, turtlenecks cover the most surface area. If you're wearing a moss-colored cashmere turtleneck, for example, then 75 percent of your screen will look like a lush hillside. You can jazz them up with pearls or scarves. And talk about a beauty filter! Turtlenecks are magical because they frame your face. I once described them on this website as being like the "sartorial equivalent of the iPhone portrait feature," and I stand by that. Plus, they make you look smart. Would Americans have trusted Elizabeth Holmes with her blood machine if she wore a white T-shirt? Probably not. That being said, if you haven't showered in days, turtlenecks are also great for hiding.
Seasons change and things fall apart, but one thing that remains constant is the fact that that turtlenecks flatter everyone and work in all situations, including 70-degree days when you're stuck inside. So, if you're on a Zoom date or working from home, my advice to you is simple: Turt up. It might make you feel better, and I'm certain you will look great (from the waist up).
Below are some turlenecks currently in my cart.
A Half-Zip for When You're Fighting With Your Roommate Over the Thermostat
A Lightweight Option for Spring
A Sexy Animal Print for a Zoom Date
The Best Turtleneck for Standing Out in Meetings
And a Bodysuit for When You Don't Want Wear Pants
If you buy something through our links, New York may earn an affiliate commission.