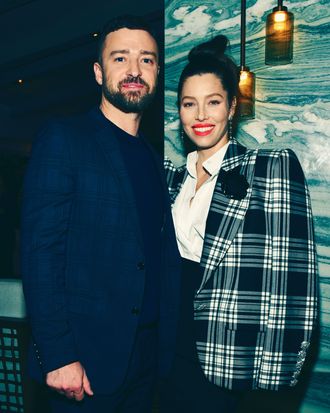 Photo: Rodin Eckenroth/Getty Images
Three months after Justin Timberlake's infamous PDA scandal, his wife, Jessica Biel, seemed to respond with a little public display of disaffection: She went out without her wedding ring on.
The Daily Mail published photographs over the weekend of the actress walking out of a Health Mart Pharmacy in Beverly Hills, smiling at the paparazzi before driving off in her Tesla. Her wedding ring was conspicuously missing. On Tuesday, however, Biel Instagrammed a picture of her and Timberlake celebrating her birthday. The ring was conspicuously back on.
Biel and Timberlake have reportedly been "working on their marriage" ever since the singer was seen getting handsy in New Orleans with his Palmer co-star Alisha Wainwright in November; photographs published in the Sun show Wainwright resting her hand on Timberlake's leg. A source told the Sun at the time, "At one stage he grabbed her hand and rested it on his knee. She then gently started stroking his leg." It didn't look good.
Timberlake apologized for his "lapse in judgement" in an Instagram post shortly after the news broke. He insisted that "nothing happened between me and my costar," adding, "I drank way too much that night and I regret my behavior … I apologize to my amazing wife and family for putting them in such an embarrassing situation." Despite this florid apology, Biel reportedly remained pissed.
And then she went and forgot her ring. What could have been the reason? Hmm … Perhaps she's been washing her hands diligently to ward off coronavirus. Or the ring was temporarily lost beneath a big pile of dirty laundry (stars: they're just like us!). Whatever the case, it's firmly back on — for now.
This post has been updated.