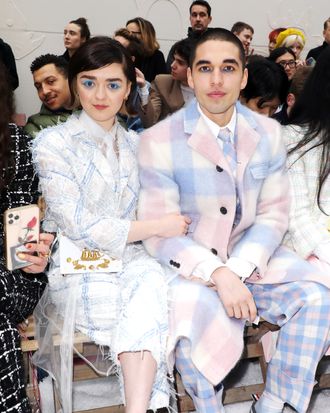 Photo: Pierre Suu/Getty Images
Fashion Month gave us a lot of beautifully coordinated couples, from Orlando Bloom and his puppy Mighty to Cara Delevingne and Ashley Benson in these delicious pastel Boss looks. Everyone looked excellent and seemed to be enjoying themselves, but I have to give Game of Thrones' actor Maisie Williams and her boyfriend Reuben Selby kudos for being this season's master outfit-coordinators.
Williams and Selby have been dating since sometime in 2019 and have been a fashion show fixture for the past year, too. This is largely because of their couples' outfits, which are so perfectly crafted — not too matchy, just perfectly harmonious — I'd argue they're getting ready to assume their place on this list of famous fashion duos. Have a look at a few recent and past highlights, from Man Repeller: 
Both this and last year they sat front row at Thom Browne, where they matched not only their tweeds, but wore his-and-hers eye shadow. They even wore matching white power suits — and hair colors! — to fellow Game of Thrones actor Sophie Turner's wedding last year:
According to his Instagram, Reuben Selby (in addition to having a devastating jawline) is an entrepreneur who founded Contact Agency, a sort of modern modeling agency that, according to its website, "celebrates the oddballs, outcasts and underdogs." The Contact Agency platform focuses on providing diverse modeling talent and easy, online booking, eliminating the need for a middleman rep favored by traditional management agencies.
He's also the brain behind Cortex Creatives, which seems to be part digital magazine and part creative consulting agency. (The other link on his Instagram is to @selbybrothers, which appears to be a foodie account run by the other three Selby brothers who, according to W magazine, are successful chefs.)
While it's unclear how Williams and Selby met, it probably had something to do with Selby's role as the former comms director for Williams's social networking app, Dasie, a "platform for creative collaboration" which, given what we know, seems very much in Selby's wheelhouse. He's also an amateur photographer (as evidenced by these very good Instagram boyfriend pics he took of Williams for Farfetch) and a designer; in 2019, he teamed up with JW Anderson to create a custom dress for Williams' 2019 Emmy's appearance: "I asked Reuben if he would design something with me in mind: my height, my shape, my likes, and insecurities," she told Elle last year, "He must've drawn up around 30 sketches, but we picked our favorite ones and it just so happened that Jonathan preferred our favorite sketch." Amazing! I wonder if he styles their couples fits too?