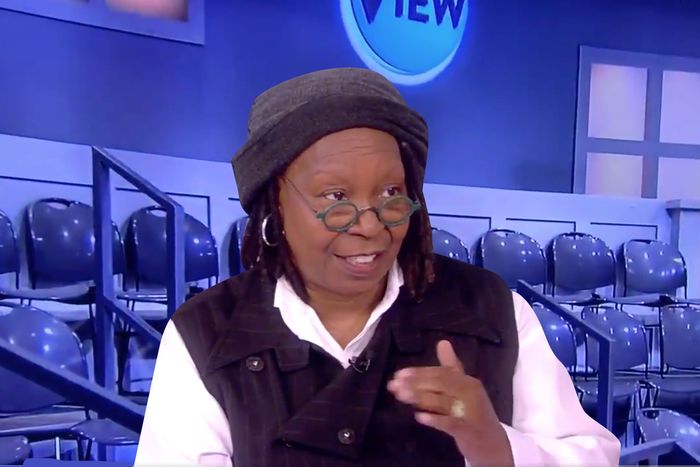 Please note the story you're reading was published more than a day ago. COVID-19 news and recommendations change fast: Read the latest here to stay up-to-date. We've lifted our paywall on all essential news and updates about the coronavirus.
I have seen the future, and it is this haunting, surreal clip of View host Whoopi Goldberg welcoming dozens of invisible audience members to the show on today's episode.
"Well, hello, y'all, welcome to The View," Goldberg says as the camera pans to numerous empty blue plastic chairs, empty because The View has suspended taping in front of an audience due to the coronavirus. "Welcome to The View, welcome to The View, welcome to The View, welcome to The View!" she repeats, gesturing affably to the ghost audience in their shiny, shiny seats.
It is a portent into a possible socially distanced very near future, in which we all may have to do things we used to do in front of other people in front of no one in order to try to stop the spread of COVID-19, as government officials call on Americans to work remotely and avoid crowded public transportation if they can. Ready yourself to give presentations to your empty living room with your colleagues on video conference; prepare to laugh out loud to yourself a lot while watching Netflix rather than be joined by your fellow cinephiles. Practice greeting your dog on the way to the gym (also your living room) and asking if he'll spot you.
Seeing The View devoid of its usually cheering mom crowds is stark and bizarre, and just a small sliver of the type of disruption to the norm we might experience going forward. Watching Whoopi say "Welcome to The View" over and over could help us come to terms with how upside down things might feel for a while. I just welcomed all my plants individually to The View and it felt right.