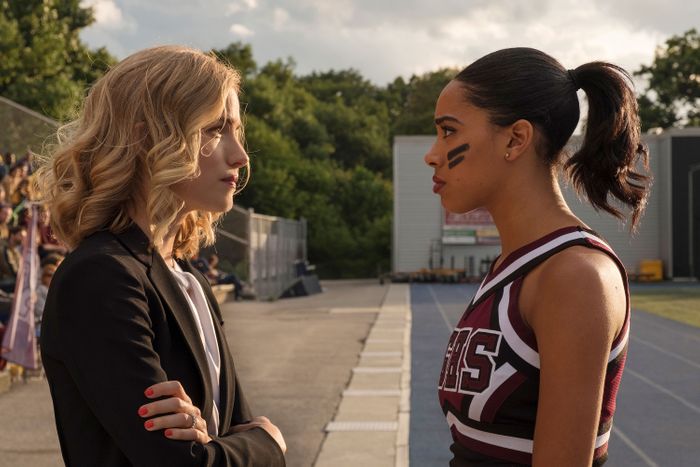 Photo: USA Network/Rafy/USA Network
It would make sense if you missed the premiere of USA's cheerleading drama Dare Me back in December. Personally, I'm not checking USA for my new favorite teen shows, and it was quickly overshadowed by Netflix's megahit docuseries Cheer. Based on Megan Abbott's excellent 2013 novel, Dare Me manages to brilliantly combine all the best parts of Cheer and HBO's Euphoria — drugs, sex, glitter, and competitive cheerleading — with a dash of potential murder.
The show follows a competitive-cheerleading team in a small midwestern town that's shaken up by the arrival of a new cheer coach, Collette French, who rules the girls with an iron fist. But "top girl" Beth — who's always been the real HBIC of the squad — is further destabilized when Coach French starts paying more attention to Addy, Beth's submissive best friend. Coach and Addy become a bit too close for a comfortable student-teacher relationship, especially once Addy gets wrapped up in Coach's personal life, which has dire consequences for both of them.
Dare Me combines the dreamy glitter of Euphoria and the sheer athleticism of Cheer to make something at once beautiful and grotesque: Stunning sequences of cheerleaders flying through the air are followed by scenes in which girls lose teeth or risk major injury. It takes cheerleading utterly seriously while combining a perfectly dark coming-of-age plot between two friends, whose friendship swings between true love, anger, lust, and jealousy.
If you need a show that will turn your stomach, make you want to practice your toe touch, and scream at the characters on your screen, Dare Me is the perfect thing to tune in to on USA or Hulu Live. And right after you finish that first season, may I recommend you pick up Abbott's page-turner to keep your fix going until we get the next binge-worthy show to tide us over.