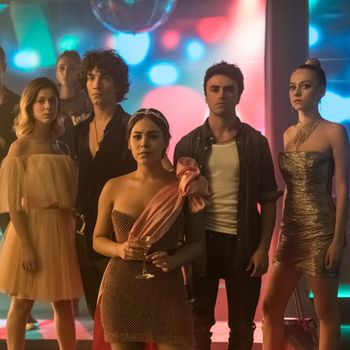 Photo: Manuel Fernandez-Valdes/Netflix
I don't know about you, but right now I want to be transported by anything I watch. Fully transported, beyond the eerily prescient confined spaces of recent reality hits like Love Is Blind or The Circle. I want to become completely absorbed into a world where aspirational socializing still occurs, and no show has quite filled that need like Netflix's Elite.
With its third season available on Netflix as of last week, there's no better time than now to binge this incredibly addictive Spanish teen drama about three working-class friends who receive scholarships to a luxe private school after their school physically collapses under mysterious circumstances. Samuel, Christian, and Nadia are in over their heads the minute they walk through the glass doors of Las Encinas and meet their private-school counterparts, nearly all of whom seem every bit as rich, tempting, and evil as they'd imagined.
Since this is a teen drama, and a Netflix one at that, everyone is objectively attractive and extremely horny. There are throuples, couples, unrequited lovers, and practically just about every pairing or relationship you can imagine. And Elite isn't afraid to show it either — let's just say it leans more HBO than CW.
All that aside, Elite depicts a world of decadence, much like Gossip Girl before it. The show is rife with fabulously wild parties at parents' mansions, where bedazzled teens drop molly and get into fights. In 2007 I Googled "Blair Waldorf headband"; in 2020 I tried "Carla Elite sequined bikini cover." Especially from the confines of my basement apartment, it's nice to imagine the hot air on my face at a mansion pool party, to fantasize about holding a goblet of gin and tonic while wearing a 24K gold body chain.
Amid the show's lush aesthetics, there's a twist and unsurprisingly it's murder. Within the first minute of the pilot, a flashback reveals that someone near and dear to the Elite crew is murdered in cold blood and the rest of the season follows the mystery of who did it. The murder reverberates throughout the show's later seasons, which ends up being one of the most surprising things about Elite. A show like this, with this premise, could easily be completely vacuous (which I would still obviously watch), but Elite takes care with its capital-I issues, from cancer to class warfare.
A show that is somehow both thoughtful about attractive young people and their problems and an unhinged teen-murder drama is the only thing I want to watch at the moment. Worrying about the will-they-won't-they of Nadia and Guzman or what drama will emerge at the fancy nightclub is a great distraction from concentrating on my own small square footage.