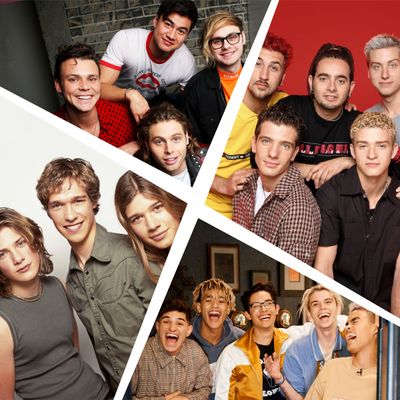 During my time inside, I have been coping with activities I used to find incredibly comforting, like playing Super Nintendo and reading cookbooks cover to cover the way I did as a kid. I've also been listening to boy bands, even more than I usually do.
While boy bands remain a constant staple for me, now might be a great time for you to rediscover — or discover! — them for yourself. I didn't recognize it as a teenager, but as an adult I see it: Boy bands have always captured uninhibited teen joy and the deepest, darkest doom. The other day I revisited Hanson's 1997 album Middle of Nowhere, and the moment "I Will Come to You" queued up I was transported back to my teenage bedroom, where I'd furiously scribble PG-13-rated fanfic about the trio of brothers from Oklahoma. Especially during these uncertain times, it's nice to be able to listen to something that instantly puts you in a different mindset. Try 'N Sync, 98 Degrees — or even some deep cuts, like LFO or BBMak.
Sure, these bands have been made fun of for being cheesy or untalented (I disagree!). But get past that and you'll realize that these albums are perfect for the wild mood swings I know I've been going through hour by hour. Turn on 'N Sync's No Strings Attached, which recently turned 20, and bop around your kitchen to "Bye Bye Bye," desperately trying to remember the choreography. Then, if despair starts to creep back in, listen to "This I Promise You," just six tracks later, and cry.
And while revisiting the bands of your teenage years is highly recommended, why not give some newer boy bands a chance? Start with One Direction. Especially if you've become a Harry Styles or Niall Horan fan in recent years, try listening to some of One Direction's old albums to detect the beginnings of both their individual sounds. "Story of My Life" from One Direction's Midnight Memories is a direct precursor to Niall's solo career, and if you're looking for Harry's rock flair, listen to "Olivia" from the band's last studio album, Made in the A.M. And, yes, One Direction did disband years ago — lucky for us, there are plenty of current boy bands making both ballads and bops.
Prettymuch, based in L.A., have been together since 2016 and have released a few EPs since then. Their first single, "Would You Mind," is a certifiable bop, and the corresponding dance visual — set atop a parking garage — is high art. As with so many boy bands of the current era, they all kinda look like young hypebeasts you'd see in a Supreme line, but don't let that dissuade you from listening to them. "Jello" and "Up to You" will have you abandoning your work-from-home duties for a brief dance party.
Thankfully, boy band 5 Seconds to Summer have dropped a new album, Calm, today. These guys from Australia have been together since 2011 and emerged from the humble origins of earlier-days YouTube. Many of their songs, like "Youngblood" (probably their most famous single), are those perfectly dancey songs that are also kinda sad, too, which is my favorite music genre. 5 Seconds' new album is a similar dancey-sad vibe, but if you need something sad, check out their cover of Post Malone's "Stay." I am fairly certain I account for at least half of the streaming listens.
I'm telling you, listening to boy bands right now is an instant dose of serotonin — a flashback to a patch of sunny teenage joy. They go beyond sugary happiness, though, too, and contain the kinds of heightened emotions — especially despair — that we are all feeling right now.