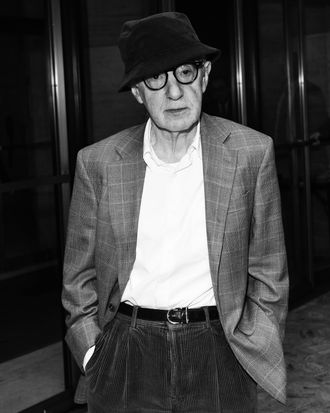 Woody Allen.
Photo: Presley Ann/Paul Bruinooge/Patrick McMullan
Following widespread backlash, director and accused child molester Woody Allen's forthcoming book has been canceled.
On Friday, Hachette Book Group announced that the Grand Central Publishing imprint will no longer be publishing Woody Allen's memoir, Apropos of Nothing​, which was scheduled to release this April, Publisher's Weekly reports.
"The decision to cancel Mr. Allen's book was a difficult one," the publisher's statement reads. "At HBG we take our relationships with authors very seriously, and do not cancel books lightly. We have published and will continue to publish many challenging books. As publishers, we make sure every day in our work that different voices and conflicting points of views can be heard."
When Grand Central Publishing announced on Monday that it had acquired Allen's memoir, which it described as a "comprehensive account of his life, both personal and professional," the imprint's decision was met with immediate outcry. That day, Dylan Farrow, Allen's daughter who has accused him of sexually abusing her when she was 7, released a statement condemning the publisher's decision as "deeply unsettling." (Allen has denied the allegations.) The next day, Ronan Farrow, Allen's son, issued a statement that he would be cutting ties with the publisher, which published his book Catch and Kill last fall, over the acquisition. Yesterday, the backlash culminated with the staff of Hachette Book Group walking out of their offices in protest of the company's decision.
Following the walkout, an anonymous employee told Refinery29 that ideally, they would want Hachette to "cut our losses and not publish the book," adding that they "weren't optimistic." However, the statement from Hatchette suggests that the publisher heard employee concerns: "As a company, we are committed to offering a stimulating, supportive and open work environment for all our staff. Over the past few days, HBG leadership had extensive conversations with our staff and others. After listening, we came to the conclusion that moving forward with publication would not be feasible for HBG."