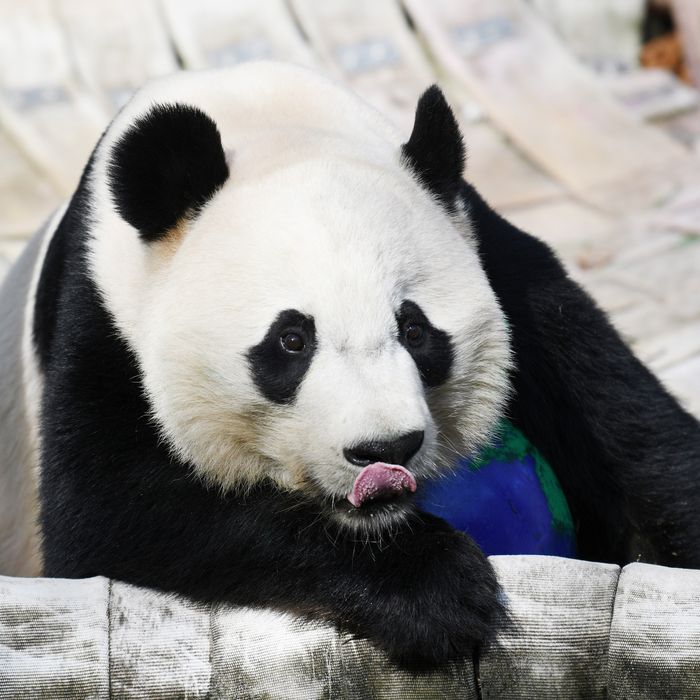 Take a little panda break.
Photo: Liu Jie/Xinhua News Agency/Getty Images
It's all very upsetting. Just, all of it. With wave after wave of acutely unsettling coronavirus information assaulting your eyeballs every time you look at a screen — which I bet you're doing more often than usual, given that self-isolation is limiting in terms of available activities — it is good, I think, to occasionally feed our brains small and pleasant distractions. Just a little something to take the edge off. You know, like five full minutes of polar-bear cubs discovering dirt. That kind of thing.
Many people won't actually be able to go anywhere for the foreseeable, but, as all this inside time is constantly reminding me, so, so much can be accomplished via webcam — including watching zoos. Luckily, lots of zoos have kept their livestreams on even as they close their doors to the public. Meaning you can now shelter in place with some sea otters. How soothing.
Smithsonian's National Zoo Giant Panda Cam
The Smithsonian's National Zoo in Washington, D.C., has an assortment of animal cams: You can watch naked mole rats, lions, elephants, and giant pandas in their enclosures. Personally, I like to watch the zoo's two giant pandas — Tian Tian and Mei Xiang — do their panda thing. For example: when last I checked, one of our compatriots was lounging on a rock pile, utterly unbothered and going absolutely ham on some bamboo. Imagine!
Cincinnati Zoo Home Safaris
You might know the Cincinnati Zoo as the place where Fiona the hippo lives, and while that is true (and while Fiona does have her own Facebook show, which you can also watch), the zoo will be introducing various other residents on its Home Safaris via Facebook live every day at 3 p.m. ET. Each one features a new animal, an exciting zoo roulette. Today's star: the sloth, as seen above.
San Diego Zoo Koala Cam
Koalas, as you know, have been having a terrible time of it lately, much of their natural habitat having been burnt up in the Australian bushfires. But the ones at the San Diego Zoo appear to be doing just fine, hanging out in trees and munching eucalyptus — classic koala stuff. Check it out. And while you're there, maybe cruise on over to the polar-bear enclosure, where one resident was napping with a log last I checked.
Monterey Bay Aquarium Sea Otter Cam
Oh, to be a sea otter right now, scooting around on your back with nothing to think about but bashing open the mollusk you just found. You may not be able to channel their calm, but at least you can watch them on the Monterey Bay Aquarium's livestream. Not to brag, but I just saw one of them do a little flip.
Shedd Aquarium Underwater Beauty Cam
Earlier this week, Chicago's Shedd Aquarium employees let some penguins out of their enclosure to ogle their fellow inmates — and now you can, too, via the Underwater Beauty live cam. It's just a bunch of brightly colored exotic fish — maybe a nice treat if you decide to dip into your edible stash tonight?
St. Louis Zoo Penguin and Puffin Coast Livestream
Speaking of penguins, you can watch the cohort at the St. Louis Zoo hang out with puffins live, every day from 9 a.m. to 5 p.m. Just a bunch of penguins at a penguin party.
Zoo Miami Meerkat Cam
Hello and welcome to Zoo Miami's meerkat cam where, at time of writing, one of these weird little weasel men was preening atop a stump, surveying his property. Allegedly the fennec foxes make occasional appearances, too, and while I have not yet seen one, I want to believe.
Ouwehands Zoo Polar-Bear Cam
There are two polar-bear cubs at the Ouwehand Zoo in Rhenen, the Netherlands. Owing to the zoo's coronavirus closure, the munchkins made their debut on Wednesday without an actual audience present. However, you can watch highlights of their antics so far here, and count down the days until they return to the stream, live, on March 26.
Bonus Round: Kitten Cam
Not a zoo cam, just a livestream of kittens because you deserve it.
Please note the story you're reading was published more than a day ago. COVID-19 news and recommendations change fast: Read the latest here to stay up-to-date. We've lifted our paywall on all essential news and updates about the coronavirus.