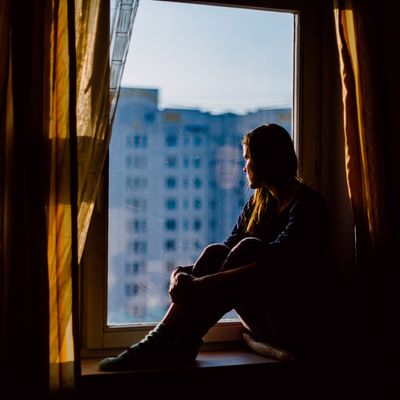 Photo: Andrei Box Roc/Getty Images/EyeEm Premium
Isolating with a partner can cause its fair share of stress, especially if you're stuck in a cramped apartment, just plain sick of each other, or your relationship was on the rocks to begin with and now you're actually living with your ex. But for couples who aren't able to isolate together, even being able to fight about the dishes might feel like a luxury right now. Here, six couples on how it feels to be away from their partners while living through a pandemic for who knows how much longer.
"We hang out on FaceTime most of the day." —Leila M., 28, Battery Park
About four years ago, I moved to Florence to "find myself." I was coming off a terrible breakup, and other struggles, and I wanted to take some time to be alone. After about a month there, I met my now-fiancé, and we've been together ever since. He's Serbian but has been in Italy for a long time. I recently got an offer for a great job in New York. It was so much of a dream job that I was willing to leave Europe. We got engaged the night before I left. We agreed that once I was settled into the new job, I would go back and we could figure out our next steps. My first trip back to see him was in January, and I was supposed to go back in March. By mid-February, I knew that would not happen. Now I don't know when we will see each other again. It's definitely hard, but we're doing okay with it. For one, he's in Italy and I'm in New York City and we're both healthy. That's the most important thing. We hang out on FaceTime most of the day. We'll laugh because we forget the other is on the phone. That's our nonphysical intimacy right now. It makes us feel close. Or we do Italian lessons. There's no point to planning anything. All I know for sure is that as soon as it's safe to travel, I'll be going to visit him.
"There is no one to hug me." —Elissa G., 41, West Village
My partner owns a Michelin-starred restaurant, and I work in restaurant PR and luxury-travel planning. So, both our careers were hit hard, obviously. But in his case, he could do something to keep the lights on, and to keep his head on somewhat straight, by keeping it open for takeout. However, we decided if he was going to do this, we'd have to separate physically. We'd have to not see each other at all. So he's exclusively at his apartment, and I'm exclusively at mine. Normally, we're together every single night, at one place or another.
We're doing it to protect both of us. He's being extremely cautious, but he's coming into contact with at least three other people a day. His staff is doing their very best, but some have roommates. And there are delivery pickup guys. They stand far away and there's zero contact, but he's still scared.
It's been about a month since I've seen him. Some days, it really hits me and I feel really isolated. He's working all day and all night. I'll try to call him, and he's in the middle of service. There have been certain days when I'm like, Are we going to get through this together? There's so much stress. There is no one to hug me. There's no one for me to hug. There's no one to comfort me.
"I just cry into my pillow like a little boy." —Jorge T., 30, Bronx
I'm on staff at a luxury apartment building in Manhattan, mostly doing maintenance and cleaning. It's a job I cannot afford to lose, and while I don't "have" to come to work right now, I can't risk losing my job long-term over it.
There is a small room in the basement with a pullout couch in there, and so I've been living there. My wife at home is pregnant. Between taking the subway to and from work every day and interacting with other building staff and tenants, it just feels too risky coming back to her at night.
It's been two weeks since we made the decision. I think she's happy that I'm not around, because she was feeling so nervous before we made this choice. She's able to feel safe now at home. I really miss her and my other two big kids. She has her mother and sister around to help. I feel very scared and alone. I feel trapped in a bad situation, and sometimes at night the voices in my head get so bad I just cry into my pillow like a little boy. I'm just dying for this to end. I'm trying to have patience and stay calm, but I'm just sad, worried, and alone.
"I can't imagine this scenario with some asshole I didn't trust." —Cole Z., 29, Williamsburg
My boyfriend flew to L.A. for a few weeks of pitch meetings in early February. He's an aspiring TV writer. His last pitch meeting was early March and then I was going to fly out there to meet him for a vacation in Palm Springs. When the virus started spreading, we both kind of froze. He was scared to get on flights, and so was I. We canceled our Palm Springs trip. I was sorta yelling at him, like, "Get on a plane before it gets worse! Come home now!" But he was too scared to fly home, and, in hindsight, he was right to be scared. So now he is living with our friends in L.A., another guy couple with a baby who really have no room for him physically or mentally right now. And I'm completely alone in New York.
We feel like neither of us can make a move. I'm a Broadway actor, so I have no work coming in and plan on not paying my rent until it catches up with me or I get evicted. My boyfriend has no gigs to speak of at the moment, so by the time he gets home, we might be homeless. We are not the sexting type, but we talk all day and just try to be bitchy and funny together — it helps. I love him and miss him, but I'm fine on my own. He has it worse than me being the third wheel to this couple and not feeling at home. We'll get through this, and it will definitely bring us closer. I'm just happy it's a stable "forever" relationship. I can't imagine this scenario with some asshole who I didn't trust, or who didn't know how to comfort me.
"It hurts me to think about him alone in our house." —Rachel G., 45, Vermont
I'm a nanny who left the city to be with the kids and family I work for about three weeks ago. I have not seen my husband since then. The decision to be away from your spouse in a time like this isn't an easy one to make. The morning I left him, I cried much of the drive north. Not knowing what the coming weeks or months would bring was so daunting. I have had some tough nights, and I know he has too. We are just doing our best to be here for each other emotionally, and we are thankful we are both in safe situations, and that we are both still employed.
We both have some health issues that, even though we are in our 40s, are concerning (I have asthma, and he has diabetes), so we were cautious right out of the gate. I have been working for the family I am with for almost five years, so when we began discussing how we would handle a lockdown, I felt comfortable moving to Vermont with them. I love the children I care for and felt that if I came to Vermont with them, it would maintain a sense of normalcy for them, and in many ways for myself. Both of their parents are now working from home, so we needed the space their Vermont home provided and the distance from others that city living could not offer. We are lucky we had this as an option.
It feels like a part of my heart is missing without my husband, but I am also grateful that we are both in safe environments. I miss him terribly, and it hurts me to think about him alone in our house. We don't have children of our own, but we do have two dogs, so we decided he would keep one at home, and I would have the other one here with me in Vermont. It helps knowing neither of us is completely alone.
"As a doctor and now a sick person, it's just hard to know what to do." —Richard M., 59, Long Island
We made the decision for me to stay away from my family before I got sick. I'm a doctor, and my office was seeing people, and my wife and I thought it would be best for me to stay at my in-laws' place while they're in Florida. So I moved out.
And then, while I did the best I could to reduce the risk for me and my office staff, it caught up with us. I tested positive the same day as my office manager tested positive. We ended up shutting down the practice and have been doing telemedicine.
My wife is a worrier, and I think she feels guilty that I'm here sick by myself. But she drives by and waves. We FaceTime each other. I've been keeping busy with work. Our next-door neighbor brings food. My sister-in-law brings food. My wife brings food. I'm not starving. The virus kills your appetite anyway.
As a doctor and now a sick person, it's just hard to know what to do. The fear is serious. I've been very open and honest with my friends, family, and patients about what's going on. I want people to have someone to talk to, someone who's going through it. For comfort, I find reading about the virus and learning about it helps me — letting the scientific part of me dominate the fear part.
My wife calls me every single day. My father, who is a physician, calls every single day. People are checking in on me. I'll get through this. I will survive.