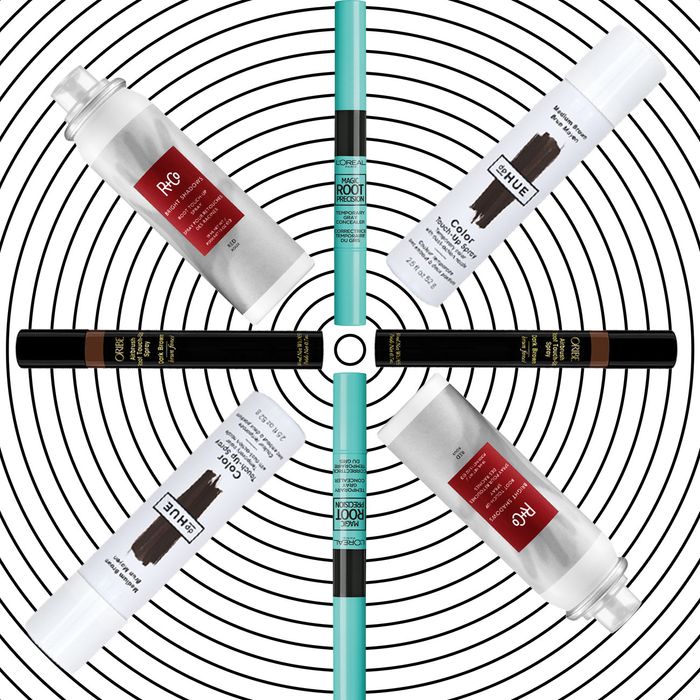 Photo: Courtesy of the Retailers
With hair salons closed for the foreseeable future, many of us are witnessing our roots slowly conquer whatever remaining color we had left on our heads. Some of us might be happy to wave the white (or gray, or dishwater) flag and just let nature take its course, but if you're not ready for that quite yet, a root touch-up works in a pinch.
Below, we've rounded up the nine best root touch-up products you can buy online. A word to the blondes in particular: make haste! Yours seems to be the most in-demand shade, and stuff is starting to sell out.
The Best Drugstore Root Touch-Up Product
Like Laura Mercier's beloved Secret Camouflage and Anastasia's Brow Powder Duo, Frieda's Root Blur pairs compatible shades together, allowing users to fine-tune to their exact color match.
The Best Root Touch-Up Product for Darker Shades
L'Oréal's Magic Root Concealer now comes in a clickable pen, but for the moment it's only available in Brown and Black. Don't pull the rookie move of impatiently over-clicking to activate this — a little goes a long way, and users have noted that too much can result in hardened hair. Users do appreciate how its compact size fits perfectly in a purse's side pocket.
The Best Root Touch-Up Product for Blondes
Photo: Courtesy the vendor
Fans love how user-friendly this aerosol spray is. A few quick blasts to the area covers roots naturally and leaves no sticky residue on hair. That said, darker-toned users say imprecise application can result in dark scalps, so this is best for lighter tones.
The One You Brush On
You apply this one like eye shadow, making it very easy to use. It might require a few extra strokes to make sure everything's concealed, but this formula, which comes in eight shades, doesn't run or rub off, and it lasts until you shampoo it out.
The One That Can Also be Used on Thinning Areas
Users love how the nozzle attachment of this spray helps with aim precision and dries quickly. They also appreciate that it stays put between shampoos, but easily washes out. It's also popular for concealing thinned-out sections.
The One That Looks Promising
Photo: Paul Tillinghast 2127413764
Truth be told, none of us at the Cut has tried this product yet (it's pretty new), but its formula of mineral-derived pigments and moisturizing amino acids sounds encouraging. We also admire that its seven shades include one for redheads, a tone often overlooked in this category.
The One With the Most Shades
Yet another one we have yet to try, but if it's anywhere near as excellent as its ACV Hair Rinse and ACV Leave-In Therapy, we're very optimistic. We also admire its generosity of shade options (ten!), which includes three blonde variations and two reds.
The One You Draw In
Kind of like Clinique's Chubby Stick, this easy-to-hold tapered-tip pencil, which comes in five shades, gets a lot of praise for its covering agility. All you need to do to sharpen it is twist the bottom.
The One People Have Been Using Forever
This flat, wide marker might not be the most high-tech of cover-ups, but all seven of its shades are still available on Amazon, and that is currently a big plus! It also includes a little comb for more precise application along the hairline where you'd rather not get any ink on your skin.
If you buy something through our links, New York may earn an affiliate commission.