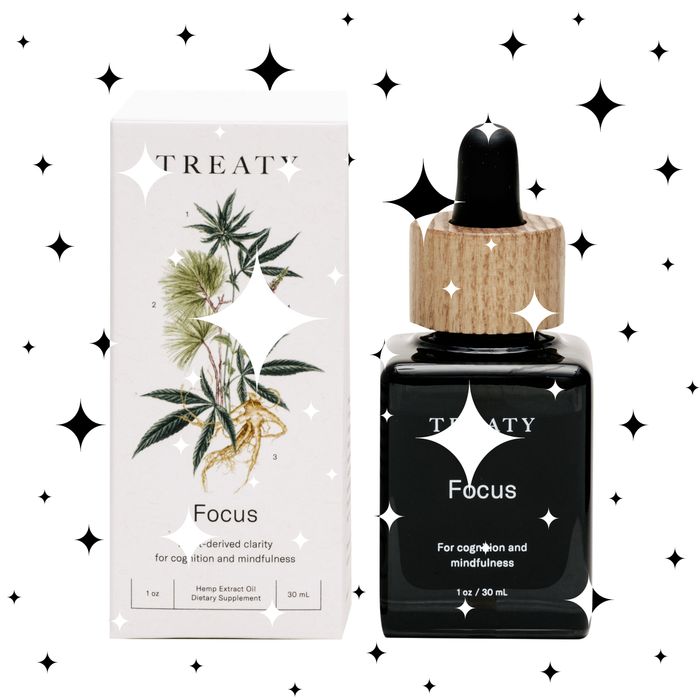 Photo-Illustration: by Stevie Remsberg; Photo: Courtesy of the Retailer
I don't know about you, but I've been having a hard time focusing these past four weeks. I'm always misplacing my phone, and just yesterday, I tossed a linen dish towel into the garbage instead of the laundry basket. And, curiously, my short-term memory is … what's the word? Oh yeah: shot.
Fortunately, Treaty's Focus CBD tincture has helped me stay in the moment. The brand offers four tinctures: Recover for inflammation, which contains 1,500mg of CBD; Calm, which has 1,200mg; Balance, which has 900mg; and my beloved Focus, which clocks in at 600mg. When I'm feeling foggy, I release the recommended 16 drops under my tongue, then go for a walk or try a household chore, like doing a load of laundry. Almost immediately, I feel a sense of clarity. I'm not overly alert or hyper; it's more that I notice it's easier to finish a task.
I like Treaty's story, too. The brand was founded by Freya and Melany Dobson, both Massachusetts natives. They were working in the cannabis space in California when their brother Ben, an organic farmer, reached out. New York State had just launched a pilot program allowing the growing of hemp, and Ben had received one of ten grants.
He and his crew planted ten acres of hemp on Mud Creek Farm. The farm's owner, Abby Rockefeller, purchased it back in 2013 partly because she knew the land hadn't been touched for ten years. She'd enlisted Ben to fully switch the land to organic. Abby and Ben grew grains and set up a lab called Hudson Carbon to monitor the soil, with the long-term hopes that other farms in the area would see the progress and consider going clean, too.
Speaking of clean, did you know that hemp is an excellent soil cleaner?
"That's why we originally grew the hemp," explains Freya. "It has this remarkable ability to pull heavy metals and mycotoxins from soil while sequestering carbon. But at the end of the season, we were like, 'Okay, we have to do something with this.'"
They named their company Hudson Hemp and built out a B-to-B wholesale business, selling bulk, isolate, and distillate formulations. They also created their own brand, which launched last fall.
"We chose the name Treaty because it implies agreement," explains Melany. "But there are also a lot of broken treaties. Many people are still incarcerated because of cannabis. Some people on our team thought the name was too controversial, but we pushed forward."
Clearly, the sisters have focus to spare. As for me, I'll be relying on the tincture to get me through this odd, timeless time.
If you buy something through our links, New York may earn an affiliate commission.