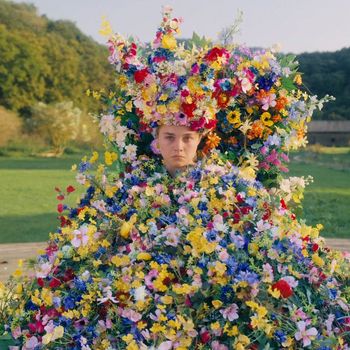 Remember the part in Midsommar where the pagan cult members sew Florence Pugh's shitty boyfriend into a dead bear skin, and then burn him alive? Or, if you have yet to see that, perhaps you recall when Robert Pattinson fervently masturbates to a mermaid figurine in The Lighthouse?
For those of you who know what I'm talking about, you're in luck: Midsommar's bear suit (pictured above) and the hot wooden mermaid from The Lighthouse could be yours. They're set to join the horrendous Furby jewelry and bat mitzvah dress from Uncut Gems — alongside dozens of other items — in an auction series that began today, April 22.
The auction is being held by A24, the indie production studio behind these films and other cult titles (The Florida Project and The Farewell, to name a few). One hundred percent of the proceeds will go to coronavirus relief funds to benefit New York City workers and families impacted by the pandemic.
Also going to auction is Rue's hoodie from Euphoria (its current bid, as I write, is $1,750), some skateboards from Mid90s, and the giant wooden mallet (pictured below) from Midsommar, which, spoiler alert, is used to bash an old guy's head in after he fails to die from jumping from a cliff as part of an ancient blood ritual.
Speaking of Midsommar, my eye is of course on Florence Pugh's sacrificial May Queen dress, which she wears while watching her boyfriend get barbecued by their Swedish hosts. It's simply stunning: high-necked, hoop-skirted, and covered with 10,000 hand-glued silk flowers. It's a dress, and also a garden; I can only hope Rihanna buys it and wears it to the next Met Gala: