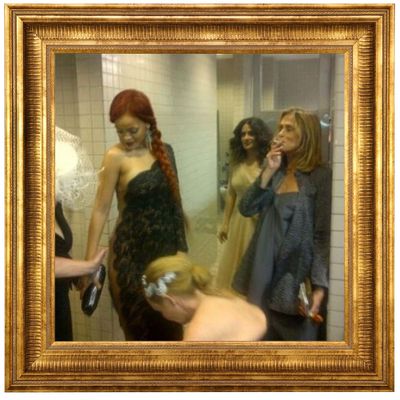 Photo: alexachung/Instagram/Getty Images/James Brey
With the Met Gala postponed this year due to the coronavirus pandemic, the only thing left to do is meditate on red carpets past. In fact, doing so would be very on theme, given that the subject of this year's costume exhibition is time itself.
On Thursday, Alexa Chung shared a throwback image on Instagram from the 2011 Met Gala — one so good, so well composed, it deserves to be on the walls of the museum itself. Behold, an ancient photo of celebrities smoking in the bathroom.
The cast of characters in this photo and their emphatic gestures makes it something like fashion's "Last Supper," or a dramatic Caravaggio painting. On the far left, Yoko Ono appears to be commenting on Rihanna's lace Stella McCartney gown, which features a full-body side slit. (Yes, Rihanna.) At Rihanna's feet is Stella McCartney herself, who seems to be futzing either with the hem of the singer's dress, or maybe her shoes. And looking on are none other than Salma Hayek and Lauren Hutton. Hayek gazes admiringly at Rihanna, appreciating her for the deity that she is, while Hutton leans up against the wall, smoking a cigarette and contemplating the artful scene in front of her.
Chung, who has clearly been going through her camera roll like the rest of us, suspects that this image is so old it was taken on a Blackberry phone. Smoking in the Met bathroom was outlawed for celebrities in 2018, but this was taken a full seven years before that — the year of the blockbuster "Alexander McQueen: Savage Beauty" show. Its grainy quality makes it seem like even more of a dream.
Who knows when we'll ever get another Met Gala bathroom selfie. In the meantime, we thank Alexa Chung for this beautiful gift, and hope that there will be a symposium on it for the upcoming High Fashion Twitter Met Gala currently being planned online.