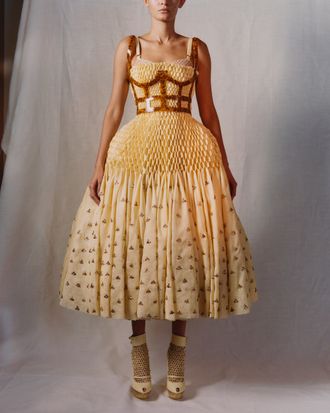 Photo: Courtesy of Alexander McQueen
Alexander McQueen is calling all artists to participate in the brand's weekly series, McQueen Creators. Each week on its Instagram, the fashion house announces a different creative challenge and invites artists of all levels to submit their artwork. For this week's challenge, McQueen is inviting followers to experiment with embroidery, taking inspiration from the bee dresses in the spring/summer 2013 RTW collection.
"First and foremost was the idea of pollination and the work that bees do. This was a collection about the natural world, the importance of it, the significance of it. The work that bees do is central to nature's ability to endlessly restore, recharge, and reinvent itself," said Sarah Burton, creative director for the brand.
Previous prompts have included drawing roses, creating 3-D flowers, and sketching silhouettes. Along with each prompt comes open-ended guidelines which allow the use of virtually any object to recreate the look. And for those who really want to get into the McQueen spirit, the brand also offers a playlist you can listen to while you work
If you want to participate this week, just make sure to submit your finished embroidery project to @AlexanderMcQueen on Instagram and tag it #McQueenCreators before Tuesday, May 5. You can also watch a member from the embroidery team show how the bees from the spring/summer 2013 dresses were created on the brand's YouTube channel starting Thursday, April 30 at 1 p.m. ET.
Below, check out some of the best submissions from previous challenges.
Week 1 Challenge: Roses
Week 2 Challenge: 3D Flowers
Week 3 Challenge: Prints
Week 4 Challenge: Sillhouettes