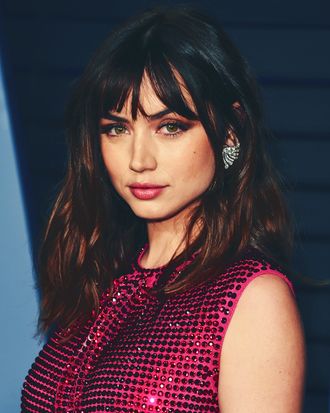 Photo: Getty Images/2018 J. Merritt
Celebrity stan accounts are fascinating things. Their purpose, as the name implies — "stan" meaning "an overzealous or obsessive fan of a particular celebrity," per the Oxford English Dictionary — is to provide constant, breathless updates on the famous person of their choosing, usually on Twitter or Instagram, out of the boundless enthusiasm of their own heart.
And now, the celebrity fan accounts are standing in solidarity with one of their own, after Ana de Armas Updates (@ArmasUpdates) — which provides updates on Ana de Armas, the Cuban actress best known for her role in Knives Out — was inexplicably blocked by the subject of their adoration.
What could have prompted this shocking development? In a statement to the journalist Evan Ross Katz, the fan page seemed genuinely baffled by it, speculating that it could have been prompted by the "lighthearted sarcasm" in some of their tweets.
Indeed, Ana de Armas Updates has posted a lot recently about the casual strolls the actress and her boyfriend — Ben Affleck, in case you have not seen the dozens of recent paparazzi photos of the two — have been taking in their L.A. neighborhood in the midst of California's stay-at-home order. (In their defense, walks are still allowed!) The two have easily been the most photographed celebrity couple since the beginning of the pandemic, with one TikTok user filming them in what some speculated was a staged photoshoot of a romantic walk.
Anyway, some of the couples' behaviors — spending extended periods of time outside, visiting coffee shops, and not wearing masks — have sparked backlash, including some tongue-in-cheek comments from Ana de Armas Updates itself.
What is a stan account to do after being so clearly rebuffed? Well, there's always comfort in community: As Katz notes, in a thread, numerous other fan pages — Florence Pugh's, Jake Gyllenhaal's, and more — reached out to console Ana de Armas Updates, telling the page to "stay strong." Meanwhile, the account seems to be weighing suggestions for new celebrities to stan. So far, Jennifer Lawrence has been shut down for being "kinda rude," as has Elisabeth Moss for her Scientology connections. A suggestion to stan Dakota Johnson, though, seems to be getting some traction: