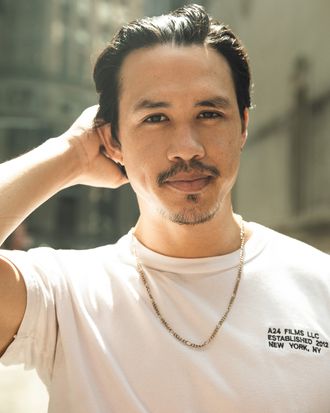 Each season of HBO's Insecure has had its fair share of outrageously beautiful men; Issa (Issa Rae's self-titled character) spent the first few seasons of the show bouncing from one Adonis (Jay Ellis as Lawrence) to the next (Y'lan Noel as Daniel). And season four, which premiered on Sunday, does not disappoint on the heartthrob front. The object of my desire, though, is actually Molly's potential paramour: the charismatic, dimpled, mustachioed Andrew. He's a West Coast wet dream who first appeared in season three and has returned to play Molly's love interest.
Dubbed "Asian bae" by fans, Andrew is played by Chinese-Australian actor Alexander Hodge, who got into the industry after a knee injury ended his career as a professional rugby player (somehow, he is still muscled like one). He's had previous stints in Modern Family, High Maintenance, and Law & Order. Insecure, though, is shaping up to be his breakout role.
Andrew is a debonair music executive, with a sort of stylish confidence, dressed in beautifully tailored slacks and accessorized with chunky gold rings. I assume he smells like expensive cologne:
He first showed up on the show as the friend of Issa's sort-of-boyfriend-thing Nathan (Kendrick Sampson, also hot) and immediately took an interest in Issa's best friend, Molly, played by Yvonne Orji. Things are heating up between them so far (that is, if she can let herself open up to him). But if the show takes any cues from Hodge's real-life relationship, their potential union is a good thing: He's the kind of person that takes his real-life girlfriend to breakfast at Tiffany's for her birthday and posts pretty pictures of her just because. Hodge said over email that he's similar to his Insecure character in some ways, but that he's more emotionally available, which is almost as sexy as his gorgeous, grabable, Legolas-long hair.
The hair is cut short now, but no matter. While he had to chop it for another job, Hodge assured me that "[the locks] will make their comeback eventually." Something to look forward to! In the meantime, here's something to hold you over until episode two airs next week: