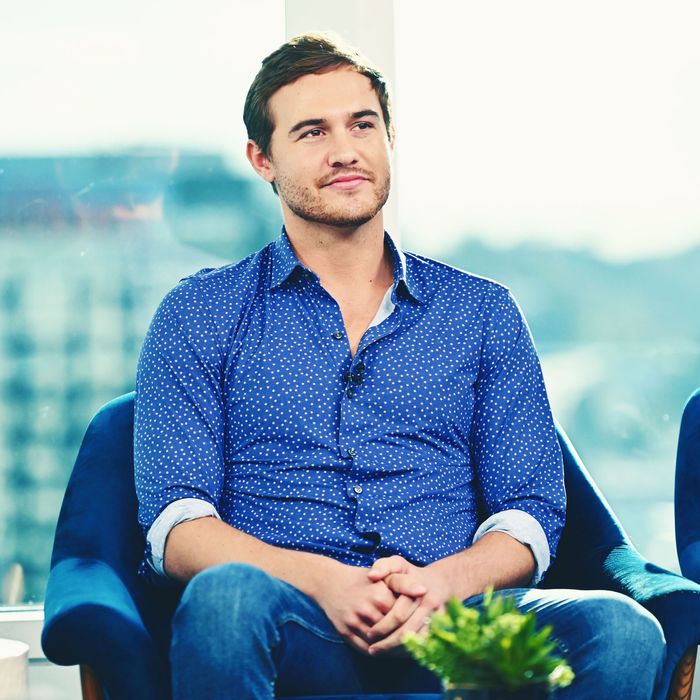 Pilot Pete.
Photo: E! Entertainment/NBCU Photo Bank via Getty Images
Why are people the way they are? Who knows. It's a messy combination of genetics, the way they were raised, the social and cultural contexts in which they exist, lived experiences … It's important, therefore, when trying to make sense of people's actions, to always bring a degree of empathy and respect.
That being said, sometimes you just have to call it like you see it and say: Damn … Pilot Pete sucks, man.
Peter "Pilot Pete" Weber was the Bachelor on the last season of The Bachelor. He is, as you may have guessed, a pilot, who led his season with all of the finesse of a toddler behind the wheel of a speeding SUV. He eliminated girls, then brought them back, then eliminated them again; he repeated absolutely every bit of gossip divulged to him; and then he topped it all off at the finale by breaking off his engagement to one girl, Hannah Ann, and announcing he was dating her runner-up, Madison Prewett, only to break up with Madison two days later. THEN, he went to Chicago to socially isolate with Kelley Flanagan, another contestant on his season.
Still, one could forgive him for being absolutely obsessed with drama (what else do we want from reality stars, after all?) if only he didn't also behave like a jerk. For weeks now, Peter has been doing the podcast circuit, talking endlessly about his season. On the Bachelor Happy Hour with Becca Kufrin and Rachel Lindsay, he talked about how he has a "crush" on Kelley, and on the Viall Files with Nick Viall, he talked about how he and Madison's breakup lasted six hours. But apparently, Pilot Pete is the only one who can talk about Pilot Pete's season, says Pilot Pete.
On Tuesday, Madison went on the Off the Vine podcast to talk about her experience on the show, and how she and Kelley were "best friends" that season, and that she was "hurt and thrown off" to discover that Peter and Kelley were hanging out again. "To be honest, what was really confusing for me is that two days before [Peter] was spotted in Chicago, he was calling me and texting me being like, 'I miss you; let's get back together,'" she said. Damn!! Peter didn't like this at all, according to E! News.
"You'd think you'd have a little more respect for this situation given we both know there's more to the story …," he commented on a post from the Instagram account @bachelornation.scoop, captioned, "Madison really dished the tea today."
Damn. This dude sucks.