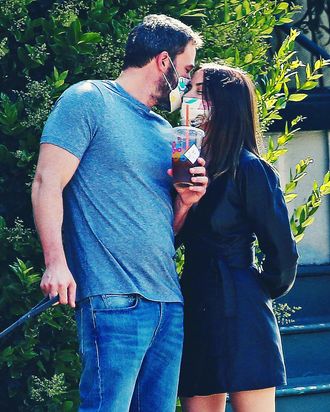 Photo: Broadimage/Shutterstock
You might think of social isolation amid the coronavirus pandemic as a time to reflect on your place in society, the value of your labor, the people on the frontlines, perhaps how even if you are bored out of your skull or trapped with your small children, you are doing your part by staying at home.
For Ben Affleck and Ana de Armas — who, to be fair, may also be thinking these things while indoors — it has been a time for outdoor displays of affection, a time to to flaunt their love as openly and as sensuously as a pair of masked individuals walking a dog and holding a plastic cup possibly can.
The new couple, who met on the set of a movie in November, have been among a recent crop of paparazzi-snapped walkers, celebrities who have been forced into these daily constitutionals by stay-at-home orders. Now all celeb photos fall in the "They're Just Like Us" category.
De Armas and Affleck, aka "Benana," have been on several "sweet strolls" during which the two have been seen wearing their masks and holding hands. The other day they hugged back-to-back in a strange, contorted embrace. But yesterday they truly upped the ante, by mashing their masked faces together in a symbol that yes, they are in love, and yes, they will be showing it off for all the world to see.
This is certainly one way to social distance. Consider another, offered by ghostly, ambling pair Camila Cabello and Shawn Mendes, who, instead of using their walks to ostentatiously perform their affection, have taken to a kind of meditative, funereal march. Mendes holds his coffee mug listlessly as a gesture to emptiness.
I know which one feels more relatable, to me personally.