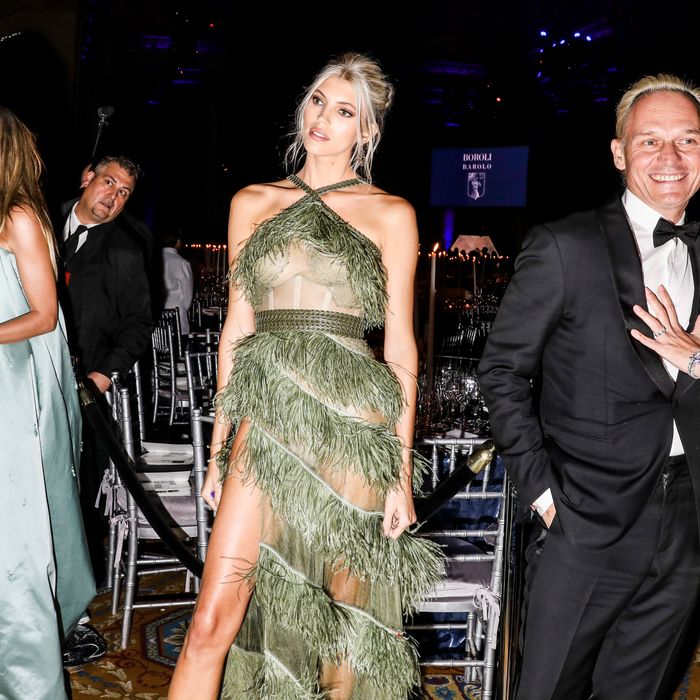 Heidi Klum (in seafoam), Devon Windsor, and guests at AMFAR's February gala in New York.
Photo: Krista Schlueter
We're committed to keeping our readers informed. 
We've removed our paywall from essential coronavirus news stories. Become a subscriber to support our journalists. Subscribe now.
AMFAR's annual New York gala in February, honoring Iman, Pace Gallery's Marc Glimcher, and The Inheritance playwright Matthew Lopez, was its usual glittery success, attracting Diplo, Andy Cohen, and the Dallas mega–art collectors Howard and Cindy Rachofsky, among many others, to Cipriani on 42nd Street and raising $1.4 million. It helped kick off what in pre-pandemic days is the city's annual three-month run of fundraising events, which can provide a fifth or more of the operating budgets for the city's nonprofits. By the time the darling buds of May have blossomed, a well-heeled patron or patroness of good causes may have sipped Champagne, danced, or auction-bid weekly or more for his or her pet causes — not that, given the state of things, any of them are looking for pity for the social-calendar hit. ("Ugh," said one gala-circuit regular when I wrote her. "I'd rather sit out, if ok.")
The lavishly produced shakedown hoedown had been an inescapable part of the city's social landscape, and now, suddenly, the events are gone, and it's not clear just what, if anything, will take their place. The dinners are gone. The auctions are online only. The tony Kips Bay Decorator Show House, a fundraiser for the Kips Bay Boys & Girls Club, is off, with the $1.2 million it usually brings in. Even if it can return at a later date, said Daniel Quintero, the club's executive director, "we do envision some kind of crisis in confidence, because, I must say, the demographic for the show house is probably 45 to 75." He predicted a 15 percent to 30 percent cut in services the club would be able to provide, given the cancellation of its spring events. "We will be feeling the effects of COVID for the next two to three years, conservatively," he said.
"I am very envious of the organizations that had earlier galas," said Mary Rasenberger, the executive director of the Authors Guild, a not-for-profit representing 10,000 published writers that had to cancel its gala at the Plaza honoring Margaret Atwood and Judy Blume. Others spoke optimistically of moving, or consolidating, events in the fall. "We're doubling down on our fall gala," said Kara Medoff Barnett, the executive director of American Ballet Theatre, "taking some of our 80th-anniversary momentum, and hopefully some pent-up demand, and having it be the most highly anticipated, most successful gala in our history." There is need for it to be: ABT has had to cancel its entire spring season, including its touring season. The company projects losses of $18 million in revenue. "What I just told our entire team — and I mean our staff, our dancers, our crew, our orchestra, our teaching faculty — is 'welcome to the development team,'" Medoff Barnett said. "It is now in every one of our job descriptions."
Performing-arts organizations have been hit particularly hard, not only by the loss of fundraising events but by the shutdown of performances that would drive supplemental revenue, as shows and performances already invested in needed to be paid. "It is an existential challenge to our theater, as it is to every single arts organization in the city," said Cynthia Flowers, the executive director of Soho Rep., which often commissions young American playwrights, and, though it operates on a shoestring, punches above its weight. (One of its commissions, Jackie Sibblies Drury's Fairview, which premiered in 2018, went on to win the Pulitzer Prize.) Its current premiere in development, Hansol Jung's Wolf Play, slated for March 17, didn't have the chance to open at all. For smaller venues without comfortable endowments, life is lived one fiscal year to the next, with very little margin for error. "We were never funded from the beginning, operationally," said Paola Prestini, the co-founder of the new-music space National Sawdust, who had to cancel her spring event and turn her venue into a streaming service for suddenly digital content. "We're always catching up." (Pre-COVID, they were on track to break even this year.)
Even more established organizations can find themselves pulled up short. Playwrights Horizons shut down its musical Unknown Soldier two days after its opening and moved its play Selling Kabul to next season. A gala honoring Unknown Soldier's composer, Michael Friedman, was canceled two and a half weeks out. "Even though you start raising money months in advance, a lot of the revenue comes in those final weeks," said Leslie Marcus, Playwrights' managing director. "That didn't happen. We, for years, have done in-room fundraising. That didn't happen. Between those two things, we fell short of our goal by about $300,000." Playwrights' usual online auction, offering in-person experiences with theater talent, will go on, though Marcus expects it to make about a sixth of what it would ordinarily. "It's Zoom driven," she said.
Keeping donors engaged in a suddenly digital world is its own challenge. Many organizations have pivoted overnight to digital-content factories — holding ballet classes via Zoom, or rushing out radio plays via podcast — but keeping board members involved is another thing entirely. Of ABT's 64 annual performances at the Metropolitan Opera House, Medoff Barnett said she usually hosts donors for more than 50 performances. Suddenly, that's gone. "We have much more communication than we normally do" with board members, said Harold Wolpert, the executive director of Signature Theatre, which has seen some changeover on its board in recent years, following the death, in 2016, of its founder, James Houghton. (Its canceled March gala was set to honor the playwright Anna Deavere Smith and its board president, Nina B. Matis.) "We had a couple board prospects, and we continued to check in with them. Bless their hearts. They said, 'We want to join.' Talk about walking into the fire." They were voted in on April 6.
As much as the immediate hit has been felt, the nonprofit world is battening down for a long slog ahead. "It absolutely has been a crisis moment," says Yasmine Falk, the co-founder of Advance NYC, a consultancy that advises nonprofits like Brooklyn's Weeksville Heritage Center, Dancing Classrooms, and 826NYC on their fundraising and development. "At this point, everyone has settled into the knowledge that this is going to be a marathon and not a sprint. To some extent, we're beyond that initial moment of panic and triage."
But beyond it into what? A new world of "webinar galas" (Falk's partner, Demos Tsilikoudis, said he'd just been invited to several), digital door-knocking, and shaky public funding. (Several directors interviewed said they had applied for government loans via the Small Business Administration's Paycheck Protection Program, a part of Congress's $2 trillion CARES Act bailout, with mixed success; around two weeks after its launch, the program ran out of money, though legislators arrived at a deal last week to replenish it to the tune of $320 billion.) Though many of those interviewed had been working in nonprofits during the 2008 financial crash, and some even after 9/11, all said the potential impact of COVID-19 was unprecedented. "In terms of funding over the long term, it's difficult to predict," said Flowers. "When you also think about responding — are people going to buy tickets even if we can reopen? Are people going to be interested in coming back to the theater?"
"I told my team that I don't see any scenario by which live events, where people gather, are gonna happen this calendar year," said Kevin Robert Frost, the CEO of AMFAR. "I don't expect anything to happen during 2020. I would love to be proven wrong."