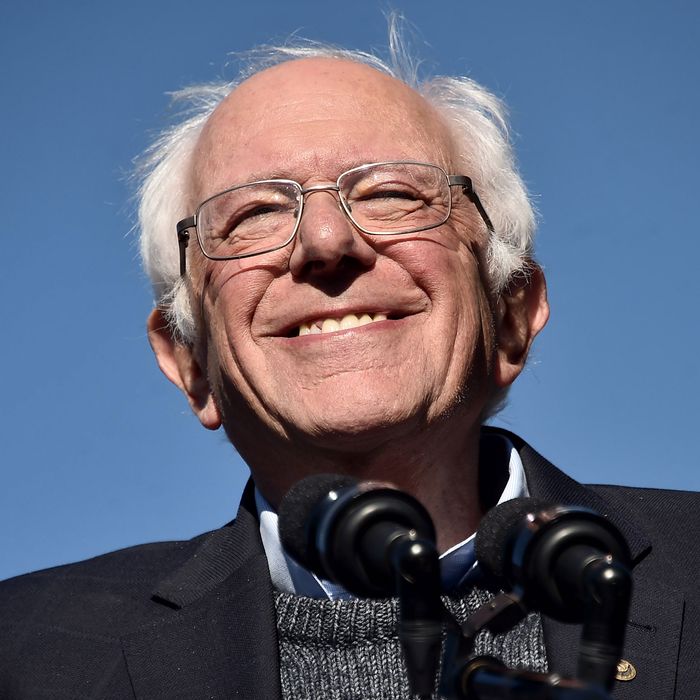 Photo: GC Images/2019 Bauzen
On a cold Caucus Night in Des Moines, Iowa, this past February, I watched a gaggle of high-schoolers stage a small protest. They were desperate to make voters care about climate change, because they weren't old enough to vote themselves, even though the election was happening in their own cafeteria. All they could do was march among the tables, holding their banner. "What do we want? A Green New Deal," they chanted, awkwardly. "When do we want it? Now." The adults mostly looked on without reacting. A blonde woman in a Joe Biden 2020 T-shirt, the polling site's precinct captain, shook her head. "So disruptive," she mumbled audibly as she hustled over to speak to an official from the Iowa Democratic Party, who jogged after the group and gently asked them to leave the room.
Those kids were desperate to vote for Bernie Sanders. Back at the school entrance, they met in a group hug. They said they were terrified of the future, for their families and friends. They had no idea what their lives would look like in ten years, when they would be my age. But they knew that Sanders took climate change the most seriously of any candidate and that he had the most radical set of plans to redesign the economy. "Please vote for Bernie Sanders," they begged the people who walked by.
While covering the primaries, I met a lot of people who couldn't vote for Bernie Sanders, but who were asking those who could to do it for them: countless teenagers who pounded Diet Coke while knocking on doors; felons; undocumented immigrants. I met a lot of people who could vote, too, who told me their primary motivation in backing Sanders was protecting the very vulnerable: the homeless, the sick, people still in prison, the extremely poor. These marginalized groups have been at the center of the Sanders campaign since he announced his run for president in Brooklyn last year. He spoke of their plight constantly on the trail; at his rallies, you could feel the urgency of the moment — people were suffering right now. There was a sense of a pressing crowd against the gates, even larger than the one that was actually on the ground, pushing, pushing. In October, in Queens, when Sanders returned to campaigning after suffering a heart attack, he crystallized that feeling into a question: "Are you willing to fight for someone you don't know?" The project was bigger than his supporters, and, certainly, him.
So mingled with my sadness that Sanders has suspended his candidacy is stubborn anticipation, faith that this is the start of something else. Sanders had the boldness and the courage to offer a counter-narrative to America's centuries-long devotion to unforgiving individualism. Instead, he challenged us to inhabit a radical human solidarity, for the people who don't even get a say. That solidarity will outlast the end of his campaign, and even another term of Donald Trump, if that's what we get.
Michelle Alexander describes the work of civil-rights and social-justice movements of the last century as "separate streams feeding into the same river," and the Sanders campaign felt like that river. Instead of defeat, I see a dam bursting.
When Bernie Sanders won his first mayoral election in Burlington, Vermont, in 1981, it was by just ten votes. Now, even in losing, there are millions of people who stand with him. People who would vote to cancel student debt, even if they don't have any; who would let their employer-sponsored health care go if it meant everyone could have coverage, regardless of their employment status; who want to see ICE disbanded so that immigrants can live here freely and healthfully, even if they came here illegally. Enough people are imagining these things now, and demanding them, that there's still hope they can become reality, maybe for those high-schoolers in Iowa, when they are my age.