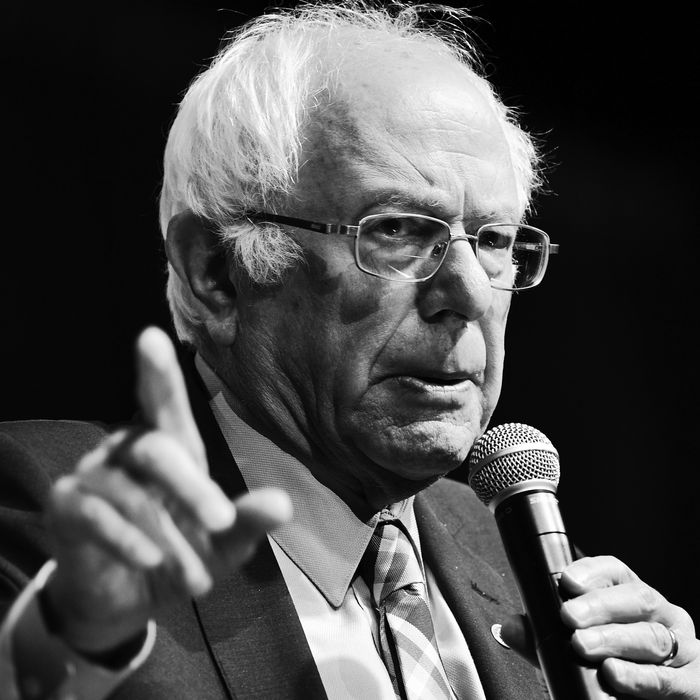 Photo: AFP via Getty Images
Vermont senator Bernie Sanders announced on Wednesday that he is dropping out of the Democratic presidential primary, clearing the path for former Vice-President Joe Biden to become the party's presumptive nominee.
Sanders told his supporters over livestream, "while we are winning the ideological battle and while we are winning the support of so many young people and working people throughout the country, I have concluded that this battle for the Democratic nomination will not be successful. And so today I am announcing the suspension of my campaign." He added: "While this campaign is coming to an end, our movement is not."
Sanders, who announced his second bid for the presidency in February of 2019, ran on a series of policy proposals aimed at supporting America's most vulnerable, including comprehensive immigration reform with an emphasize on decriminalization, an ambitious plan to fight climate change, forgiveness of Americans' $1.6 trillion in student loan debt, and Medicare for all, an approach to universal healthcare coverage he helped popularize and which Biden does not support.
Sanders, who was a serious contender in the 2016 presidential primary, was considered by some to be the frontrunner in the 2020 race after early victories in the New Hampshire and Nevada primaries and a tie for first place in Iowa. But the moderate Democratic establishment quickly consolidated — with candidates like Pete Buttigieg and Amy Klobuchar dropping out and endorsing Biden — after which Sanders's path to the nomination began to narrow. Biden went on to a Super Tuesday victory, sweeping ten of the 14 states holding primaries that day.
In the weeks following Super Tuesday, both campaigns were virtually immobilized by the coronavirus crisis, which has led to aggressive social-distancing policies including the cancellation of nearly all large gatherings nationwide. Nonetheless, on Tuesday, despite public-health concerns, Wisconsin held its primary in-person after the Supreme Court refused to extend the state's deadline for absentee voting in order to contain the spread of COVID-19. After weeks of communicating through livestreamed interviews and virtual town halls, Biden didn't take a hard stance on whether it was safe for voters to go to the polls in the middle of a pandemic, saying last week, "that's for the Wisconsin courts and folks to decide." Amid a risky day of in-person voting across the state, Biden's position appeared to evolve, telling CNN on Tuesday that in fact, "my gut is that we shouldn't have had the election in the first place, the in-person election." Results from the Wisconsin primary are expected to be announced on April 13.