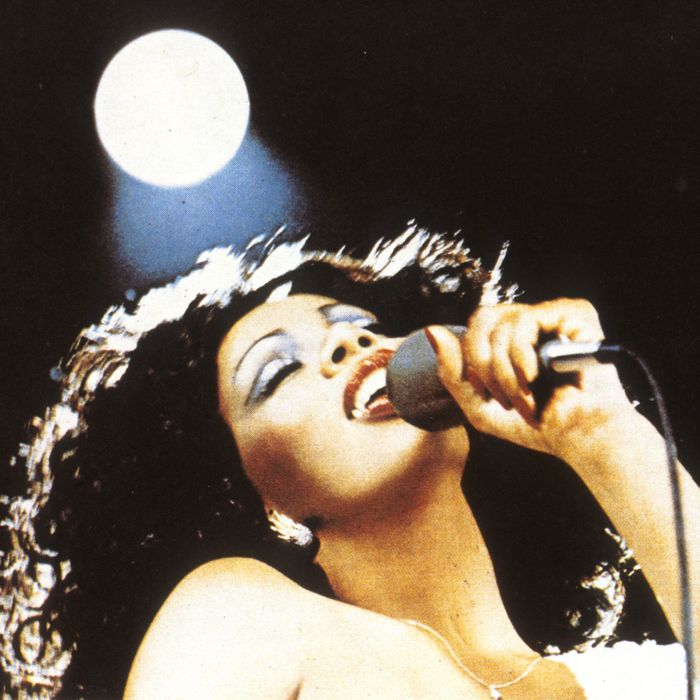 Photo: Redferns/1975 GAB Archive/Getty Images
In this prolonged period of self-isolation, there is one recent memory I keep coming back to: I'm at a small bar and nightclub in Brooklyn called Nightmoves. Beneath me is a checkerboard light-up dance floor, and my shoes sort of stick to it as I stomp my legs to the music. My friends are all close — like, really close; our noses almost touch. One comes up behind me, and I can feel her on my back. Everyone else is a stranger, but we're all rubbing and exchanging glances. Some people kiss. I can taste the remnants of a sweet beverage in my mouth, plus the soggy bits of a paper straw.
And then the DJ plays my song. "Oh my God, this is my song!" I yell at my friend, even though she's still right in front of me. It's "I Feel Love," by Donna Summer — not actually my song, but still a really good one. I recognize the buildup and then the release: "Oooooh," Summer half-coos, half-moans in a high pitch. "It's so good, it's so good, it's so good, it's sooooo good …" I smile and take a deep breath, preparing for what I know is about to happen: I'm going to lose my mind.
Cut to me actually losing my mind within the four walls of my bedroom. The floor is carpeted, and I'm not wearing any shoes. I haven't danced in public in over a month. I have not touched or been touched. Instead, I've been thinking a lot about touching — about crowds and how losing your mind in the company of others is an inevitable part of life in New York City. Now that I'm stuck at home alone, I've been listening to a lot of "I Feel Love" and other disco songs in an attempt to transport myself. It's something that makes me feel glamorous and free, even though I'm going nowhere.
For someone who loves disco so much, I'm actually not very well versed in the genre. I've been returning to the classics, but I needed more. ("I Will Survive" and "Stayin' Alive" hit different now.) I decided to look up the DJ who was playing at Nightmoves that fateful eve and get in touch. His name is Lloyd Harris, and he's been DJ-ing in New York City since 2001, playing at popular spots like Le Bain, Good Room, and House of Yes. He is also a founding member of Tiki Disco at Roberta's and the Lot Radio in Greenpoint.
"It's an uplifting genre," Harris explains. "It's about smiling when there's nothing to smile about — about forgetting the world around you for a moment and just enjoying yourself. Because that's where it came from: the young, gay, black communities in the '70s trying to express themselves and go out and have their own music, because they weren't accepted anywhere else."
In the '70s, New York was generally not a shiny, happy place. The city was in the middle of a debt crisis, and crime and unemployment were both high. The subway was a mess. This was before the boom and excess of the '80s, and nightclubs like Studio 54 eventually took what was happening in small, dark corners of the city and brought it to a more mass audience. Coincidentally, an exhibit on Studio 54 was set to open at the Brooklyn Museum in mid-March just as the city went into lockdown and the economy once again tanked.
In moments of struggle, disco, and music in general, continue to be a relief valve. Many people are tuning in to livestreams from D-Nice and Club Quarantine remotely, but music can also be enjoyed alone. "Music is saving me; it's keeping me sane and grounded right now," said Harris. "I know I can always put on a record and feel something — either when I don't know how to feel, or when I'm just scared. It makes me feel at home; I know that feeling."
Below, Harris suggested a few disco songs to keep you occupied.
Lloyd Harris's Self-isolation Disco Picks:
"A Nice Feeling," by Caroline Crawford
"Hang Together," by Odyssey
"La Bonne Musique," by Michel Berger
Other songs I've had on repeat:
Check out my full playlist here.