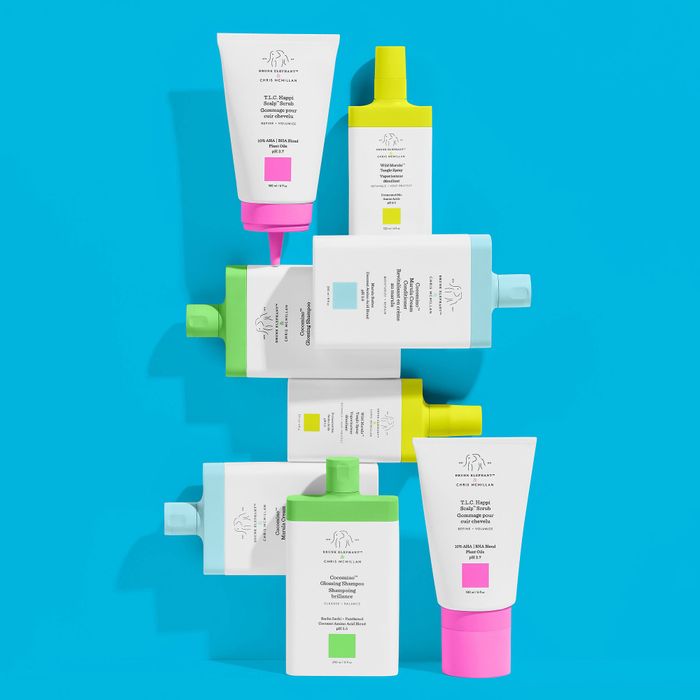 Photo: Courtesy of Drunk Elephant
When Drunk Elephant founder Tiffany Masterson announced she was starting a hair-care and body line, we were intrigued. Drunk Elephant's clean, effective, cutely packaged skin-care products have developed a cult following since its launch in 2012, but sometimes brands can slip when they don't stay in their lane.
DE fans shouldn't worry, though. Masterson created the products with celebrity hairstylist Chris McMillan, who's an old friend (they grew up going to the beach together.) As you might expect from the brand, they're all pretty good — but a few in particular really overdeliver. Here, our favorites from the range.
Rubbing this onto my legs after a hot, steamy shower is one of the little treats I give myself before I go to bed. The texture of this lotion is satisfyingly rich and thick, with a really nice glide. It takes a couple of swipes to fully rub it in, but I don't mind because it doesn't feel at all greasy.
The scent is very almond-y, which I happen to love because it reminds me of an almond tea my mom used to make me when I was little. But if you don't love the smell of almonds, you'll be glad to know it disappears quickly. Masterson is known for nixing essential oils in her products. For the body and hair line, she used almond extract specifically because it dissipates quickly. If you have to work in a fragrance-free environment (like a hospital) but want to relish the luxury of a little fragrance, you'll love this. The price is also decent for its eight-ounce size (for reference, my very favorite luxurious Necessaire lotion is $25 for about one ounce less of product). —Kathleen Hou, beauty director
Unlike Kathleen, I'm not a huge fan of almond. It doesn't nauseate me or anything, but it reminds me of the Caswell-Massey soaps that a former pushy boss used to make me call in for her on a regular basis back in the late '80s, and aversions have memories like, well, elephants. But I'm willing to let it go because this shampoo is so good. It lathers well for an SLS-free formula and does its job sufficiently. And the matching conditioner had a nice consistency — not too thick, not too thin. —Jane Larkworthy, beauty-editor-at-large
McMillan described this spray to me as the clean, grown-up version of No More Tangles. But it's so much more! Tangle Spray imparts powers that my blow-dryer and I never knew we were capable of. Admittedly, my hair is relatively easy to blow out, but it has cowlicks and pesky natural bends where I'd rather it not. This spray made it perfectly smooth — so smooth that I couldn't stop touching it afterward. —Jane Larkworthy, beauty-editor-at-large
Sometimes, my scalp feels like it's weighed down with dry shampoo, sweat, and too many styling products and needs a deep clean. A lot of scalp scrubs feel too abrasive for my tender head, but this isn't one of them. It's a nice blend of very fine granules (so tiny that I almost didn't notice them at first) plus a dose of AHA/BHA acid, so there's no danger of finding any chunky grains in your hair. Massage it onto dry hair and then follow with shampoo and conditioner. I loved how this made my head feel weightless and fresh but not stripped bare. If you have a serious dandruff situation, you might need something stronger. But if it isn't that intense, this is a good one to pick up. —Kathleen Hou, beauty director
If you buy something through our links, New York may earn an affiliate commission.