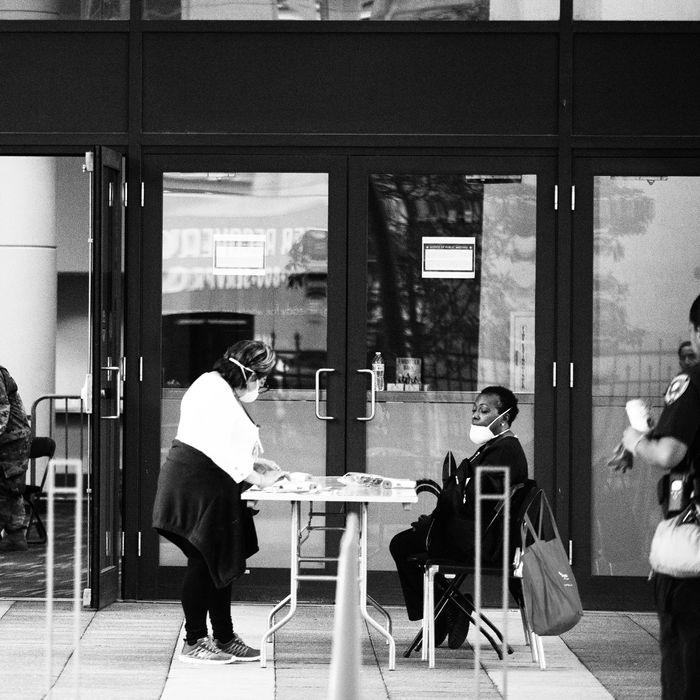 Photo: REUTERS/Kathleeen Flynn
Speaking at a press conference last week, New York governor Andrew Cuomo referred to the coronavirus as "the great equalizer." "Everyone is subject to this virus," Cuomo said. "I don't care how smart, how rich, how powerful you think you are." But while the virus doesn't discriminate, the conditions in which it spreads do. Instead of "equalizing," the pandemic has exposed fault lines in American society and encouraged them to grow, from states using the pandemic as an excuse to shore up their anti-abortion agendas to the disproportionate risks faced by essential workers to unequal access to testing and treatment.
Race is a factor in all of these economic and political disparities, and now the data is beginning to reflect that. On Wednesday, the Centers for Disease Control and Prevention released some limited data, which indicates "that black populations might be disproportionately affected by COVID-19." And the New York Times reported on Tuesday that local governments, including those in Milwaukee, Chicago, and Louisiana, are beginning to report that disproportionately high numbers of black residents are testing positive for COVID-19 and dying from the virus. The data is limited at this point, as many states, including those with the largest outbreaks, like California, New Jersey, New York, and Washington, have not provided information on the race of their COVID-19 patients. However, the little we do know is extremely troubling.
Higher rates of infection and death
The CDC reported on Wednesday that its initial data on racial disparities in coronavirus hospitalization rates suggests that black people are disproportionately affected by the virus. The data is limited at this point — it was only collected during March across 14 states, and out of the 1,482 people included in the report, information about race was only available for 580 patients. But the study found that 45 percent of hospitalized coronavirus patients were white, 8 percent were Latino, and 33 percent were black, though the racial breakdown of the affected population was 59 percent white, 14 percent Latino and 18 percent black.
Initial reports had similar findings. WBEZ had reported on Sunday that COVID-19 is killing black residents in Cook County (which encompasses Chicago and the surrounding area) at disproportionately high rates. According to data from the Cook County Medical Examiner's office analyzed by WBEZ, black resident comprise 23 percent of the population in Cook County yet account for 58 percent of deaths from COVID-19. About half of these cases came out of Chicago, where, as of Saturday, black residents made up 70 percent of the city's 86 recorded deaths. Chicago mayor Lori Lightfoot announced the numbers on Monday and said, "This is a call-to-action moment for all of us."
Officials in Milwaukee have observed a similar phenomenon. ProPublica reported over the weekend that as of Friday morning, black residents accounted for nearly half of Milwaukee County's 945 cases and 81 percent of its 27 deaths, although just 26 percent of Milwaukee County residents are black. According to the report, "Milwaukee is one of the few places in the United States that is tracking the racial breakdown of people who have been infected by the novel coronavirus, offering a glimpse at the disproportionate destruction it is inflicting on black communities nationwide."
ProPublica also reported that in Michigan, as of Friday morning, black residents made up 14 percent of the population but 35 percent of reported cases and 40 percent of deaths in the state. On Monday, Louisiana's governor John Bel Edwards announced that black residents comprised 70 percent of COVID-19 deaths despite accounting for just 33 percent of the state's population. According to the Times, black residents are also overrepresented in the rates of infection in the Las Vegas area and Connecticut.
New York City has not released a breakdown of cases by race, but the city's Department of Health did publish a map last week showing patient addresses by ZIP code, which revealed that many of the neighborhoods hardest hit by the virus were also those with the lowest median incomes.
Underlying Disparities
While the data on the racial disparity in COVID-19 treatment and testing and the precise reasons behind it remains limited, the impacts of segregation and poverty on black Americans' health is well-documented. Black Americans are more likely to be uninsured than white Americans. They are also disproportionately likely to have jobs that require them to keep going into work in this crisis, risking exposure to the virus. Study after study indicates implicit racial bias in America's health-care system, in everything from treatment to diagnosis and medical outcomes.
Economic, political, and environmental factors have also put black Americans at a higher risk of chronic conditions like asthma, heart disease, diabetes, and hypertension, which could make them more vulnerable to the worst effects of COVID-19. In Chicago, where some of the first reports of racial disparity in COVID-19 cases were reported, poverty and segregation have long aggravated health conditions among black people. The Chicago Reader reported in 2012 that in the city's five poorest neighborhoods, all overwhelmingly African-American, the rate of diabetes-related deaths was double that of the five wealthiest neighborhoods. Mortality rates as a result of cancer, heart disease, and stroke were also higher. The infant mortality rate was two and a half times as high.
Dr. Anthony Fauci said during a White House briefing on Tuesday evening, "We have known literally forever that diseases like diabetes, hypertension, obesity, and asthma are disproportionately afflicting the minority populations, particularly the African-Americans."
Will we know more soon?
In light of these findings, many public officials are urging city, state, and federal governing bodies to collect data on the racial breakdown of coronavirus testing and treatment. On Thursday, New York City's public advocate Jumaane Williams sent a letter to Mayor Bill de Blasio calling on his administration to release figures on the racial breakdown of the city's coronavirus cases (numbers tracking cases by gender, age, and location have been made available). According to Williams's letter, people of color are overrepresented in many of the city's essential jobs, including laundromat workers, grocery store workers, and emergency responders. Additionally, Williams's office "has heard complaints that the most marginalized New Yorkers are experiencing more difficulty accessing COVID-19 testing." Senators Elizabeth Warren, Kamala Harris, and Cory Booker have also called on the Trump administration to release data on the race and ethnicity of patients who receive coronavirus testing.
This post has been updated with more information.