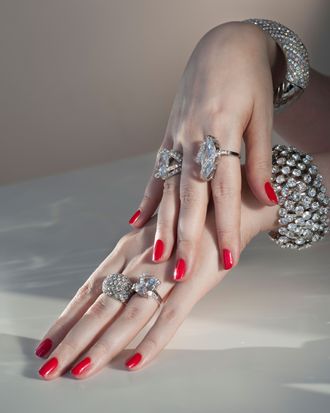 Photo: Getty Images/Tetra images RF
In the past month-plus, amid the coronavirus pandemic, a record 22 million Americans have lost their source of income, forcing them to navigate the bureaucratic hell that is filing for unemployment benefits. Millions of people can't afford to pay rent; a growing number of Americans can't even afford groceries. Meanwhile, restless rich people are dropping hundreds of thousands of dollars on jewels to cheer themselves up.
When social-distancing mandates put an abrupt end to live auctions, pushing auction houses like Sotheby's to transition to online sales, the future of jewelry sales was uncertain. But according to a new report in Bloomberg, the pivot hasn't negatively impacted sales on collectible jewelry — in fact, people are dropping more money than ever. Over four sales throughout March and April, Sotheby's had estimated that it would bring in, at most, $5.7 million. But in fact, the auction house ended up bringing in $6.1 million.
"What we're finding is that anything of good quality is performing well," Catharine Becket, Sotheby's "magnificent jewels" specialist in New York, told the outlet, "and actually better than it would have just a couple of months ago."
The apparent motivation behind these luxury purchases? Deprived of the ability to flaunt their ostentatious jewels to anyone outside the confines of their home, the rich are "wearing big diamonds inside" and buying jewels to make themselves feel better. "Clients are sequestering at home and, generally speaking, leading relatively dreary lives," Becket continued. "[Everyone] is waiting for this to be over, and I suppose knowing that a million-dollar piece of jewelry is waiting for you is a fulfillment of when things return to the new normal."
However, the true test of the rich elite's boredom — and wealth, I guess — will come this week, when a 1930s diamond bracelet by Cartier goes up for auction online. Sotheby's estimates that it'll bring in between $600,000 and $800,000, but looking at recent trends, it could easily go for over 1 million dollars.
Great country we've got here!