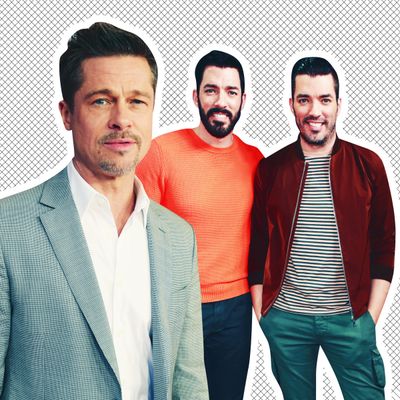 Remember that scene in Once Upon a Time in Hollywood where Brad Pitt is repairing Leonardo DiCaprio's roof and he takes off his shirt? With one hand? Revealing exquisite, sweaty abs? Yes, of course you remember. How could you forget?
Anyway, please hold that in your mind for a moment while I tell you something that might otherwise feel unbelievable: Brad Pitt is in a new  episode of an HGTV house-flipping show, Celebrity I.O.U. A spinoff of The Property Brothers — in which twin brothers Drew and Jonathan Scott help people transform their fixer-uppers into dream homes — Celebrity I.O.U. brings in celebs like Viola Davis and Melissa McCarthy to assist the titular bros in this mission.
Yes, it's true, Academy Award–winning Brad Pitt, of most beautiful man in the world fame; he, whose magnetic, actorly charisma has inspired generations of horniness, is set to appear on an episode. Pitt was brought on to help revamp the underutilized, freestanding garage of Jean Ann Black, Pitt's elusive makeup artist, who was once described as his "secret weapon." It's a crossover that is at once strange and wonderful. As Vanity Fair wrote in a review of the episode:
Wearing his signature newsboy hat, artfully tousled hair, and a genuine smile every time he talks about his long-standing friendship with Black… "I love the sound of a construction site," he says, not long after dropping that he knows the zoning laws for how close you can build to the property line. "I'm extremely tactile," he says, picking out engineered hardwood samples like they're crown jewels.
If Brad Pitt building things doesn't do it for you, I'm not really sure what will. And while he stays fully dressed the entire episode, I'd imagine he adds a big, delicious dollop of movie-star charisma that I can see working rather nicely with the Scott brothers' buffoonery. So if you're looking for something to hold you over until the next big Brad performance and you can't bring yourself to watch Ad Astra, check out Celebrity I.O.U. on April 13.