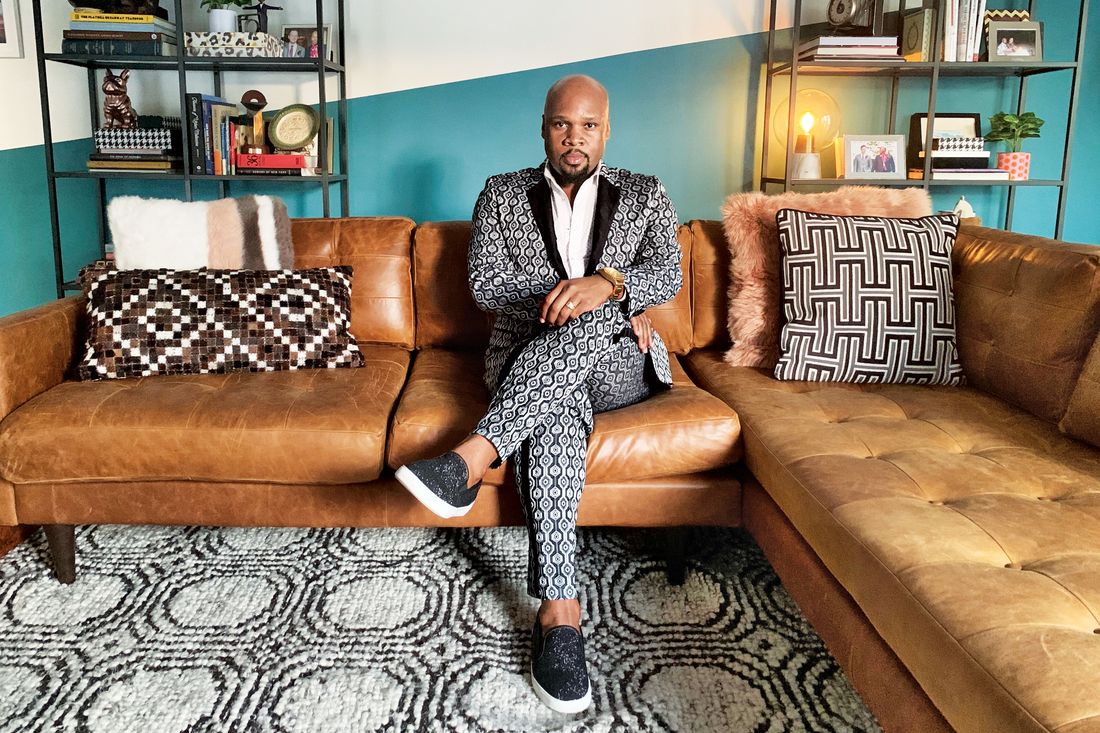 Michael James Scott.
Photo: Courtesy of the subject
(Above): Michael James Scott, the Genie in Aladdin, home in Los Angeles.
Where were you when you found out the show was shutting down?
We were in a television studio about to film the Tamron Hall show to celebrate the 25th anniversary of Disney on Broadway. Right after we found out, I had to get it together, and we had to do a live performance. I was singing a jazz version of "Friend Like Me" live with four ensemble ladies.
What do your days in quarantine look like?
Lord, it feels like a weekend every day. A lot of FaceTimes. I'm obsessed with the app Houseparty.
Are you still singing?
In the evening, around the time I'd normally go onstage, I put in my head that I'm going to my show. I go outside, and I sing "Prince Ali," just to have a semblance of normalcy. A reminder of, That was happening.
Are you with family?
No, but just before the shutdown, I saw them. My parents were in town to see three shows because my sister Jessie Mueller was opening her show The Minutes, and my brother Matt Mueller was closing Harry Potter and the Cursed Child. I'm grateful for the timing of things — we wouldn't have had that time together otherwise.
When did you fly back to London?
Friday the 13th. Unlucky for some, I know. We found out the show was canceled Thursday, March 12. I could have flown that evening, but the flight was ridiculously cheap the next morning. A flight to Heathrow for £72.
When'd you go back to England?
I was told I should go home right when the show shut down, but I had a little bit of a sniffle, a bit of a fever, and a cough. And I thought it was worth taking the 14 days first. I just think it's the responsible thing to do if you think you're a risk to other people around you — take yourself out of the equation. The first day that I could I came back I did, and now I'm well into my 14 days of quarantine post-travel.
Has the cast stayed in touch?
We had a Hamilton powwow. Tommy Kail and Lin-Manuel Miranda did a little meeting, reminding us that we are all in a weird place together, with our show and the community at large. We get it a lot: the Tommy Kail motivational check-in speech.
What have you been doing to keep busy? Well, I'm reviewing Take Me Out in my head. Oh, and I'm in the process of writing a cookbook, so I've been testing recipes. It's been a little challenging, because the grocery stores are not as stocked as one would want them to be when you're developing recipes.
How are you faring?
We've experienced quite a few deaths already. Just before this all went down, I was at the Atlantic Theater gala. And four people that I saw that evening are no longer with us. Adam Schlesinger, who wrote the music for The Bedwetter, Josh Wallwork, Terrence McNally, and Mark Blum. To wrap your head around that is very tough.
Are you still rehearsing?
Once every sort of ten days or so, I'll just shut myself in my room, walk in circles, and speak the entire play and sort of picture it in my head.
What's it like to not be acting?
It feels like I'm not an actor right now, I'm just a person. And to put the emergency brake on, the whiplash is felt. Between the hours of five and seven, my body still goes into show mode. I have a hard time eating without feeling like I need to eat small to do a show. That can lead to small fits of sadness.
So you've already been sick?
The week that everything shut down, I had a bit of a cold. Once we found out someone in our building was positive, our producers said that they had access to a doctor that had tests, so I went right away. I'm very luckily on the other side of having COVID-19.
Did you take your costume home?
No. And it's so bizarre to imagine Mrs. Doubtfire on a bust in my dressing room with her teeth and her wig. We just left with everything sitting there. The costumes, the wigs, the props — it's all just sitting there.
Have you been regularly getting dressed-dressed?
Last week, one of my cast members had a birthday. He announced that he was having this party, and he said, "I want you to put on your best lip and your best hair and come to the party." The DJ was Zoomed in, and it was amazing.
How are you feeling?
Oh, well, funny-ish story. I'm recovering from pneumonia. I'm gonna assume that it has to do with COVID because how else does a 27-year-old with no respiratory issues end up with pneumonia? There are people in the cast who tested positive. But we don't have anybody who has dealt with something really serious or critical. Truly, thank God. It does make me glad that we shut down. It could have been so much worse.
Any new shows?
In the evening, my husband and I watch Downton Abbey, which has been lovely because it's light and at the same time interesting because the overall theme of Downton Abbey is how the aristocracy had to change their ways because of World War I. We might be on the same trajectory. Nothing can be the same again.
What have you been watching?
Well, my friend sent me Gal Gadot's celebrity "Imagine" video and was like, "This is up your alley." In terms of, you know, videos I watch to make myself uncomfortable.
What happened for you after the shutdown?
I went to the theater to get my things, and for about 16 days I stayed in my apartment in midtown except to go get groceries. Then my Boq, Riley Costello, and I drove across the country, to Orange County. It was only three weeks since I opened the show, so I've been joking that when I return, I'll be joining the second original cast of Wicked. But Broadway will sound amazing when we return. We'll all have been on vocal rest for so long.
What have you been getting up to?
I've been getting into weird shit. I made a TikTok last night, in which my friend was positioned on the bed in this way that made it look like she was giving birth to our dog. We took a video of her pretending to be in labor, and then her birthing out the dog, and then me and my girlfriend being like, "It's a beautiful baby dog."
Where were you when you found out?
My boyfriend and I were on holiday and we had left the evening before. Then that Thursday we got this freakin' text from my mom: "Did you see this article? Broadway is shutting down." It felt apocalyptic because we were driving away from it all. It's like we drove away right on the cusp of the city imploding.
How is it to be in your parents' home?
A lot more space, which is lovely. But of course, your parents tend to nag you about the things that they nag you about when you're a teenager. Watching too much TV, eating too much, and not exercising enough. It was a bit touchy for the first two days. Now it's a pleasure.
It must be strange having free time.
To actually have time together with my other half, my wife, is joyous. We just had a nice batch of sunshine, and we said, sod it, it's five o'clock, we added a little glass of wine. I don't think there's any point running around like a headless chicken. We're at home. Thank God we're at home.
The show hadn't opened yet?
No, we were entering our final week of rehearsals. I was gutted — a little catatonic for the first week. After that, I decided to kick myself up: Do some exercise, watch the Cuomo address, a vocal warmup, studying a good movie. It's really hard to practice acting without people.
Does the cast Zoom?
There have been Zoom meetings, yes. A few days ago, one of our dressers passed away from the coronavirus. That meeting had a different, somber tone. Everyone turned their lights off, and paid their respects.
*A version of this article appears in the April 13, 2020, issue of New York Magazine. Subscribe Now!