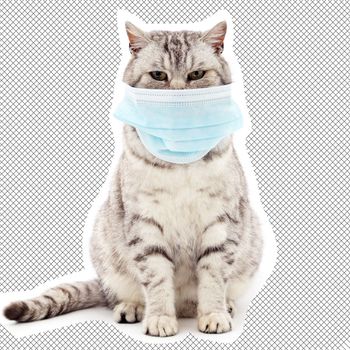 As if your cat would wear a mask.
Photo: Getty Images
On Wednesday, the United States Department of Agriculture and the Centers for Disease Control and Prevention announced that two New York house cats had tested positive for coronavirus — the first pets in the U.S. to do so.
But not, in technical terms, the first cats: Eight big cats at the Bronx Zoo have now tested positive for the virus after exhibiting decreased appetites and dry coughs. (Tests for animals are different from tests for people, which explains why these ten lovely creatures were able to get them so quickly.) The small cats appear to have presented with similar symptoms to the big cats — mild respiratory issues and sneezing — and while all the felines are on track for recovery, the news may be disquieting for those who fear plunging their pets into discomfort.
As the New York Times notes, testing positive for coronavirus "does not mean the cats have the same illness that people have. Nor does it mean that the cats can pass on the illness to people." And one of the two house cats who tested positive shares a home with another cat, who did not become ill. That cat's owner had previously tested positive for COVID-19; meanwhile, the other positive cat's owners never showed any symptoms. This would appear to indicate that, if anything, humans can get their cats sick, but not necessarily the other way around.
With that in mind, the USDA and CDC have emphasized that "there is no justification in taking measures against companion animals that may compromise their welfare." As in, do not abandon your pets in an effort to dispel additional coronavirus risks. In a statement to the Cut, a CDC spokesperson reiterated that the small number of dogs — two dogs, in Hong Kong, neither of which showed signs of illness — and cats who have tested positive for coronavirus did so, for the most part, "after close contact with people with COVID-19."
But surely you, a responsible and concerned pet owner who worries about the small sneeze box purring at your side, would like to know what safety measures you should be taking to preserve its health.
"We still do not know the full spectrum of what COVID-19 can do you our pets," Dr. Timnah Lee, managing veterinarian at the Tribeca Soho Animal Hospital in New York City, told the Cut. "The best thing is, if you are positive [for coronavirus], to please avoid contact — i.e., snuggling and kissing your pet." Cats should remain indoors, in line with CDC guidance, and dogs should be kept on leashes, a minimum of six feet away from other people and animals, while on walks. "Remember: Social distancing is your friend," Lee advised. Which also means that no one outside your immediate household should be interacting with your pet, no matter how much they may want to.
For people who suspect their pet caught the coronavirus, the CDC warns against simply showing up at the vet's office — particularly if you know, or think, you have COVID-19 yourself. Call ahead first to discuss your options and possible treatment routes, and if your pet exhibits distressing respiratory symptoms, Lee recommends contacting an animal emergency center.
And if you suspect you have the coronavirus, do your best to stay away from your pet, as you would a roommate. The CDC recommends having your partner or roommate do the pet care; if you live alone, the agency says you should mask up and scrub down before and after litter box and food duties. As Dr. Lee notes, this unfortunately means you will have to withhold the cuddles and keep your little monster out of your sick bed, which will be hard, if you also have a cat who screams at your bedroom door and rams his long body into the wood when you hang out in there without him. You will have to reason with him, remind him that all of this is for his own good, and the sooner he accepts the social distancing recommendations, the sooner you will nap as spoons again. He probably won't be receptive to this argument, because he is a cat, but maybe it will help you to hear it.