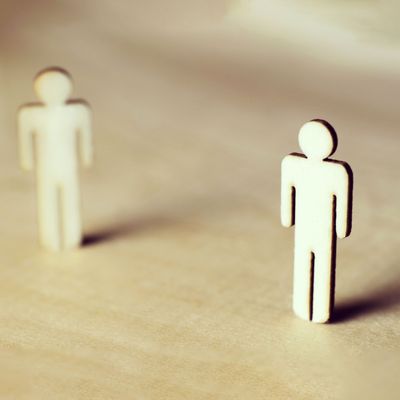 The weather has been getting nicer lately, hasn't it? The season's fragile optimism seems even to have spread to the news: On Thursday, New York reported the fewest COVID-19 deaths in ten days. Earlier this week, California's governor spoke about the specifics of reopening schools and restaurants. These examples barely make the cut — death is still death; schools with staggered start times and waiters in masks certainly aren't what we're used to — but they are still small steps forward. How might they change our behavior?
Yesterday morning, Governor Cuomo extended New York State's shutdown to mid-May. The CDC's cloth-mask recommendation has been in place for weeks that feel like years. The more "regular" social distancing becomes, the more we might feel we have mastered it. The more boring and tedious it seems. The more it might feel somewhat reasonable to see friends, as long as you make an effort to stay six feet apart.
Here's my theory: Doctors give you A-level directions expecting a B-level result. But you get that B by going for the A. If you go for a B, you get a C. This is, of course, because caring for the human body can be an incredible challenge. Most doctors know you're trying your best.
Now is the time to keep doing our best at social distancing, not to give ourselves a break. Yes, it is difficult to be socially isolated. It can even be dangerous. It is, at the very least, not fun. I know. But social distancing works. It sucks that we will have to keep doing some form of it for quite a while. Life is not fair.
If it's nice outside this weekend, don't join people you don't live with on the stoop. Don't meet up for walks pledging you'll stay six feet apart. If your job doesn't require you to come into contact with people you don't live with, don't do it recreationally. The time to use your six feet of separation is during necessary trips to get food or medicine or exercise. It's not to talk to a friend you could call instead.
As others have already pointed out, some amount of social distancing is the norm for many households with a vulnerable person. Because one of my children is medically complex, we do our best — we've done our best since his birth four years ago — to stay away from anyone we know who's had pneumonia recently, a severe-seeming cold, or any form of respiratory illness. If someone in my house tests positive for the flu, we wear masks and gloves. We disinfect doorknobs and quarantine the sick person. It is a constant challenge, and it sucks. It sucks a lot! I hate it. But my son had his 4th birthday over Zoom last weekend, and what I want most is for him to celebrate lots and lots more birthdays.
Separation between family members who live together is never a perfect practice, and neither is social separation on a large scale. Humans are imperfect by nature. This is what makes me so nervous about the idea of going on "six-feet-apart walks." Why would you invite an opportunity to mess up? To accidentally lean in close to your dear friend, to reflexively retrieve the blown-off hat of someone else's child?
I know it sucks to be separated from the friends and family you love. No one can do social distancing perfectly, but many of us could do a little bit better than we're doing. If a 4-year-old can, why not you?