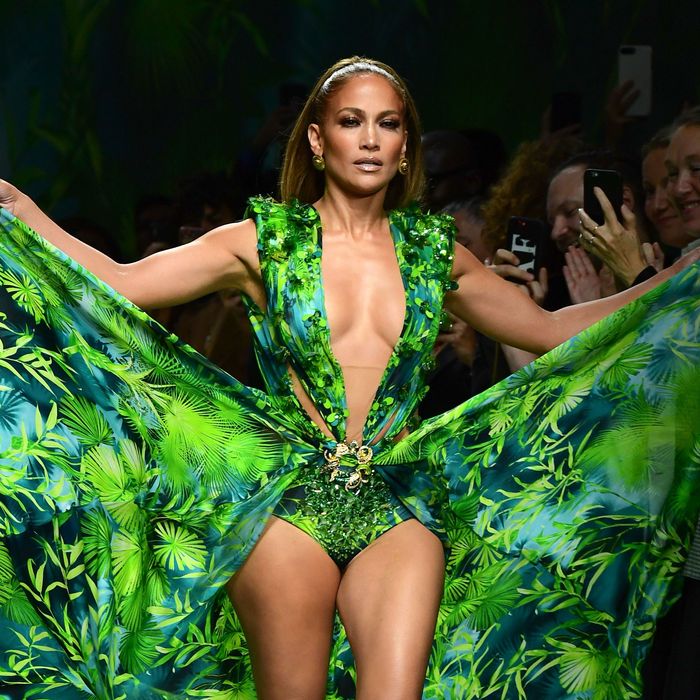 Jennifer Lopez wearing Versace Spring 2020.
Photo: MIGUEL MEDINA/AFP via Getty Images
Throughout the fashion industry, there's talk of using this unfortunate moment of pause as an opportunity to rethink the business going forward. Do we need so many shows? Do so many people need to fly across the world to attend them? How can we restructure not only Fashion Week, but also the chain of production so that it's more sustainable? As always, these are big questions that would require a larger-scale movement in order to fully answer. In the meantime, brands are still moving forward with the environmental goals they'd been planning long before the pandemic.
On Earth Day, global fashion luxury group Capri Holdings Limited, which owns Versace, Michael Kors, and Jimmy Choo, announced its plans to become 100 percent carbon neutral in its direct operations and to source 100 percent of energy for its owned and operated facilities from renewable sources by 2025. The company will also commit to set emissions-reduction targets across its operations and supply chain by 2021, using the Science Based Targets initiative.
In addition to its overarching goals, Capri Holdings also announced more specific initiatives, which sound promising. They include:
All plastic in packaging to be recyclable, compostable, recycled or reusable by 2025

100 percent of point-of-sale packaging materials to be recyclable or sustainably sourced by 2025

Partnering with key suppliers to reduce water use

Traceability of its supply chain

Sourcing at least 95 percent of its leather from certified tanneries by 2025

Furthering diversity and inclusion within the organization, including through the company's new Global D&I Council

Supply-chain empowerment programs focused on human rights and fair wages to be implemented in line with the UN Framework for Corporate Action on Workplace Women's Health and Empowerment by 2025
"Carbon neutrality" has been a buzzword in fashion for some time now. Brands like Gucci have announced similar goals. (In some cases, it may be an example of "greenwashing" — empty sustainability claims that brands use to seem relevant.) It's impossible to know what the world will look like in 2025, and whether or not Capri Holdings will stick to these goals, but it's better to start working toward a better future late than never.