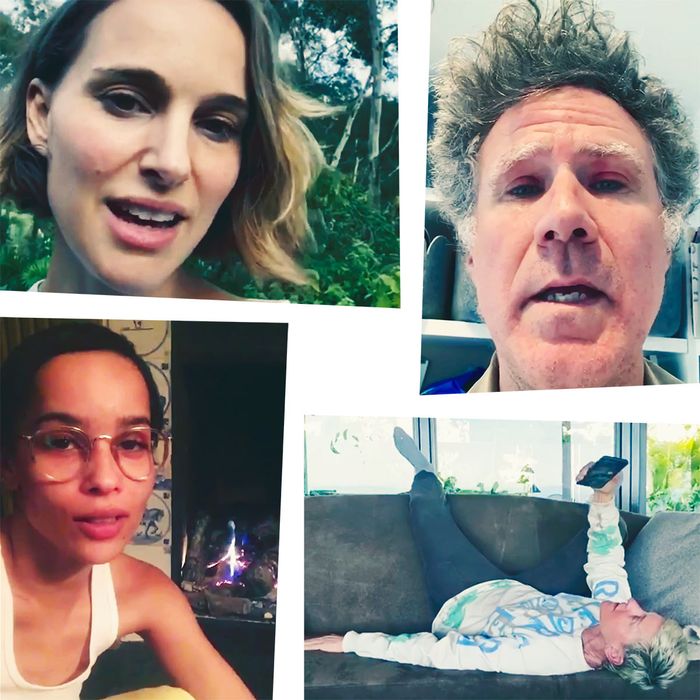 What happens when the celebrities — a class of people dependent upon paparazzi, photo shoots in exotic locations, and promotional tours to support their lifestyles ­— are forced indoors in the midst of the coronavirus pandemic? What content will they produce in these coming weeks of self-isolation? How will they keep that connection with their fans? The answer, so far, is doing what many of us in social isolation are doing: laying bare the slow unraveling of their minds for all the world to see.
The most disturbing product of this — for me at least — has been this viral video of celebrities singing verses from John Lennon's "Imagine," curated by Gal Gadot. The highlight is seeing Mark Ruffalo in glasses, and the low point is listening to all the celebs try to belt their lyrics, in what appears to be a tiresome audition reel for The Masked Singer. The emptiness of the gesture as a whole is a true downer. Why does this video exist? Gadot explains in her preface to the exquisite corpse sing-along that she was in day six of self-quarantine and feeling "philosophical." That's all you need to know.
Also a little eerie is this video Ellen DeGeneres posted of her video-chatting with Chrissy Teigen and John Legend. The theme of this video is basically that she is bored and they are, too. The subtext of the video is finding all the ways to sit on your couch.
January Jones soberly dumping a box of baking soda into her bathtub in preparation for a relaxing soak is some of the best "losing it" content around. That she's named this health ritual "human stew" is all the better. I'm grateful that she doesn't try to be funny or smile once.
There have been some charming moments, too — like Seth Rogen getting high in self-isolation and livetweeting his experience of watching Cats for the first time. This video of Sam Neill talking about how he just cleaned all his sneakers warmed my heart. His discovery that he has so many shoes that are "pretty much exactly the same" is a testament to the human spirit.
JoJo wrote pandemic-themed lyrics to her 2004 hit "Leave (Get Out)," commanding fans to "stay in / right now / do it for humanity." As with the other videos there is a definite "cooped up at home" vibe, this time in the form of JoJo singing before a pile of lemons heaped upon her dining-room table as she frequently glances back at her computer to make sure she's getting the lyrics right.
I'd also like to draw your attention to Anthony Hopkins and his cat, who appear to share a single soul. It's great to see these two thriving.
Jessica Chastain, meanwhile, appears to have discovered TikTok while social distancing. Here she is, sequestered on a seaside balcony somewhere, peering through her binoculars at the content factories you've set up inside your homes. At least I think that's what she's doing.
Actor Leslie Jordan is dealing with his isolation malaise by posting very regularly to Instagram, creating a diverse collection of content that includes song, dance, fitness, and pandemic sex talk. This morning, he watched porn over breakfast, possibly because he feels like "you're all out there screwin'" while he's just sitting inside.
Martha Stewart, whose social-distancing setup mostly seems every bit as luxuriant as you would expect, is nonetheless confronting mortality on Instagram.
We now know that Diane Keaton stands in the we-wear-real-pants-while-stuck-inside camp: she is social distancing by herself, wearing jeans — her GENIUS wide-leg jeans, but still — and gloves and a face mask inside her own home, with her 15-year-old dog, Emmy, for company. It is presently unclear if the collage wall behind her is a product of quarancreativity or a standard feature.
This post has been updated.
Please note the story you're reading was published more than a day ago. COVID-19 news and recommendations change fast: Read the latest here to stay up-to-date. We've lifted our paywall on all essential news and updates about the coronavirus.