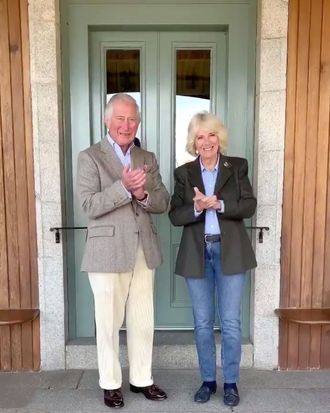 Photo: @ClarenceHouse/Twitter
We told you the celebrities were losing it in self-isolation. That was weeks ago, when they had just stopped being able to go out and about their ritzy business. While some of them seem to have settled into a charming domesticity, others have entered a much darker space, a ghostly realm where, kept from the activities that once made up their normal lives but unable to simply exist inside of their homes like the rest of us, they are trapped in a kind of purgatory, condemned to wander. It is a serious situation.
Take today's footage of the Camilla Parker Bowles and Prince Charles emerging from a gilded crypt to provide stilted clapping in support of health-care workers. Surely they have clapped before, at the theater, or even given a series of short claps, to summon some kind of helper or get the attention of a horse. But these two look like animatronic figures who are running out of power. Fascinating and disturbing indeed.
With that as our guide, I give you the most haunting behavior of the rich and famous in self-isolation:
Ben Affleck smoking under his mask
Yes, he's wearing a mask, just like his fellow Angelenos mandated under coronavirus emergency instructions. But he can't help himself from tucking a cigarette under its material, thereby defeating the entire purpose of wearing the mask at all. He couldn't wait to take a drag mask-less in a backyard, which he surely has? These are desperate times.
The Housewives "clean" their houses
First, it was Ramona Singer who assaulted her toilet in a neglige while proclaiming she hadn't cleaned one in 45 years. Then, Dorinda Medley decided to don her own scant apparel and mop her floors, in a macabre parody of household drudgery. (This turn of events seems somewhat prefigured by Khloé Kardashian's Febreze collaboration, which occurred just before quarantine and which harkened a coming celebrity household cleanliness scourge.)
Martha Stewart sees Death
In one of the more disturbing incidents on our list, Martha Stewart chronicled the appearance of an undead stranger on the streets of Hudson, New York. She asked, "Is it death? Is it a death foretold? What type of macabre message is it??" Then she tagged Kim Kardashian West (though she seems to have untagged her since). Why? We may never know the answer to these questions.
Gwyneth Paltrow and husband can't have sex
You might think a giant mansion is the ideal location for you to find time and privacy for acts of coitus, but not so for Gwyneth Paltrow and her husband Brad Falchuk, who seemed genuinely haggard and concerned during a video they filmed for Goop in which the couple spoke to someone called an intimacy coach. We hope they are doing better.
Shawn Mendes and Camila Cabello, march of ghosts
The haunted cake is indisputably taken by this pair of melancholy lovebirds, who have been known to float listlessly around Los Angeles, holding empty mugs, performing the act of "walking around their neighborhood together" despite clearly never having seen a person walk around before, ever. As they shuffle through time we see that they become even more and more detached from reality.