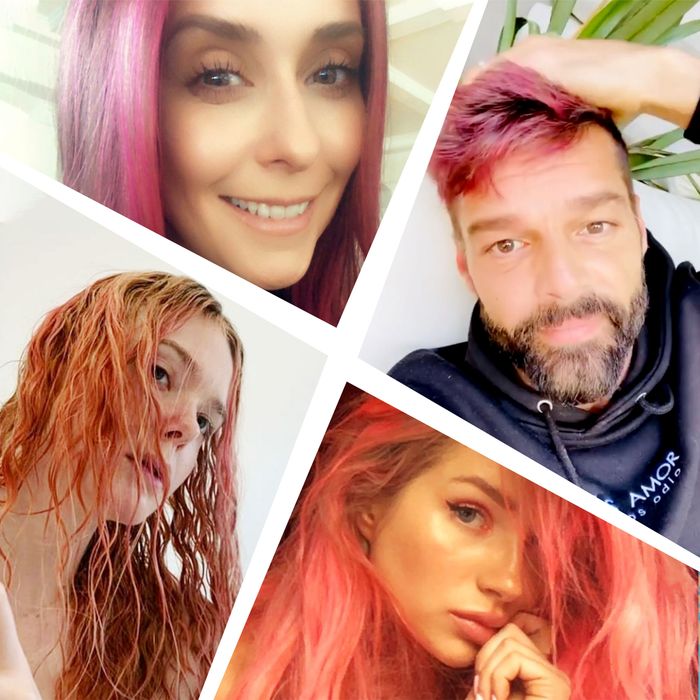 Elle Fanning, Jennifer Love Hewitt, Ricky Martin, and Lottie Moss with DIY pink hair.
Photo: Instagram
There's a lot going on right now, but a few celebrity trends have still managed to emerge among the chaos — mainly, celebrities collectively losing it on social media, and on a slightly less unhinged note, celebrities dyeing their hair pink.
Everyone, from former blondes Elle Fanning, Ireland Baldwin, and Lottie Moss, to former brunettes Dua Lipa, Jennifer Love Hewitt, Ricky Martin, and teen Cruz Beckham have dyed their hair pink while socially isolating at home. (Cruz's mom kindly dyed his.)
Why pink? Is it because there's a new Trolls movie coming out? Are people listening to "Beauty School Dropout" while experimenting with their hair? Is everyone craving cotton candy? Did someone find all Jem and the Holograms episodes streaming somewhere? (Do tell.) Does everyone just happen to have an emergency box of pink-hair dye hanging out in the back of some cabinet in their house that's been gathering dust this whole time?
We may never truly know the answer, but simply scrolling through pictures of people with cheery, My Little Pony hair is much easier on the eyes and ears than some of the other celebrity trends social distancing has spawned.
If you buy something through our links, New York may earn an affiliate commission.