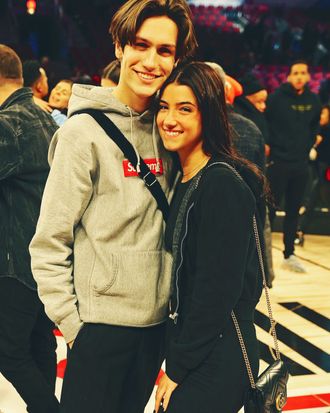 Chase Hudson and Charli D'Amelio in happier times.
Photo: Layne Murdoch Jr./NBAE via Getty Images/2020 NBAE
The First Couple of TikTok is no more. On Tuesday, Charli D'Amelio, 15, and 17-year-old Chase Hudson — better known as Lil Huddy — announced in their respective Instagram Stories that they had split up.
"Since you guys have watched mine and Chase's relationship from the start, I decided I needed to tell you all that we are no longer together," wrote D'Amelio. "It hurts me to say this, but we've decided that this is what's best for both of us. We are still close friends and I would not change that for anything! I truly have so much love for Chase and wish him nothing but the best."
On his Story, Hudson wrote, "Charli is such an amazing person and I am so beyond grateful and blessed to have spent the time I spent with her."
The messages are mature and thoughtful for a pair of heartbroken teens, albeit ones with enormous social-media followings and management teams. D'Amelio's dance videos have earned her over 48.3 million followers on TikTok — more than any other user on the platform. Hudson has over 18.4 million followers.
The two have officially been dating since at least January, when Hudson posted pictures of him and D'Amelio on Instagram with the caption "can't take my eyes off of you." Fans had been clamoring for them to get together for months before though. Even before they were a couple, Hudson and D'Amelio frequently collaborated on videos in the Hype House, a mansion in Los Angeles where Hudson and various other TikTok and YouTube stars live and film their content.
The breakup announcement comes days after rumors began to circulate that Hudson had sent flirty DMs to Nessa Barrett, the girlfriend of Josh Richards, another TikTok star who lives in yet another content mansion (!) known as the Sway House. (Richards and his housemate, Bryce Hall, made this claim by releasing a music video titled "Josh Richards - Still Softish ft. Bryce Hall (Lil Huddy Diss Track)," which features the lyrics "This is to tell all your fans you still be fucking with girls / Telling people Charli's your world.")
Hudson didn't publicly address the rumors directly, but on April 3, he tweeted, "i love one woman. do not tell lies."
Our condolences to these two kids in this difficult time.