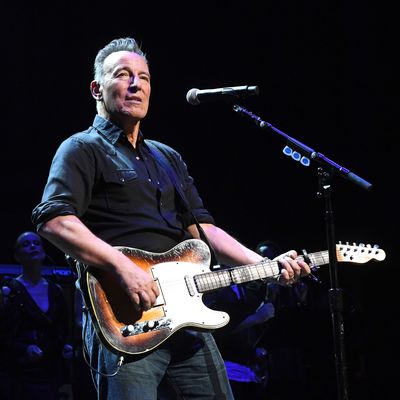 Photo: Kevin Mazur/Getty Images/Kevin Mazur
More than a few times during the past month spent in social isolation, I've had the thought: I wonder how Bruce Springsteen is doing. This is both because I look to him for strength and because I worry about him as if he were a family member.
Luckily for me, and for those of you who feel the same, Springsteen recently hosted a special on his SiriusXM channel, E Street Radio, called "From His Home to Yours." During the hourlong segment, he shared songs, stories, and some insight into what he's thinking and feeling, which ends up being pretty much exactly how you'd assume Bruce Springsteen was thinking and feeling, in a way that I would dare to describe as "somewhat comforting."
"Everybody really misses something," he said. "What do you miss? I miss going to Max's and the Windmill and getting a hot dog. I miss walking along the promenade and beach boardwalk in Asbury Park. I miss sitting at the bar and having some beers and drinks with some friends." Yes, that sounds right. He said he also misses baseball and looks forward to the next time he can take his wife, Patti Scialfa, to a game.
Introducing the song "Better Times Are Coming" by Kate and Anna McGarrigle, Springsteen said, "I believe that deeply down in my soul," proving that he is one of the only celebrities I'm interested in hearing from at the moment. "I believe that some of the love that has grown, the togetherness that has grown, when you see people come out on their balconies and applaud the health workers who are putting themselves on the line day after day after day. Their courage and their bravery is truly something I've never seen before."
"The only thing that I'm really sure of," he said, "is that after all this is over the world isn't going to quite be the same."
If you'd like to listen, the special is slated to air again on Monday, April 13, at 4 p.m., and Tuesday, April 14, at 12 a.m. and 8 a.m. Sirius is offering free streaming through May 15.