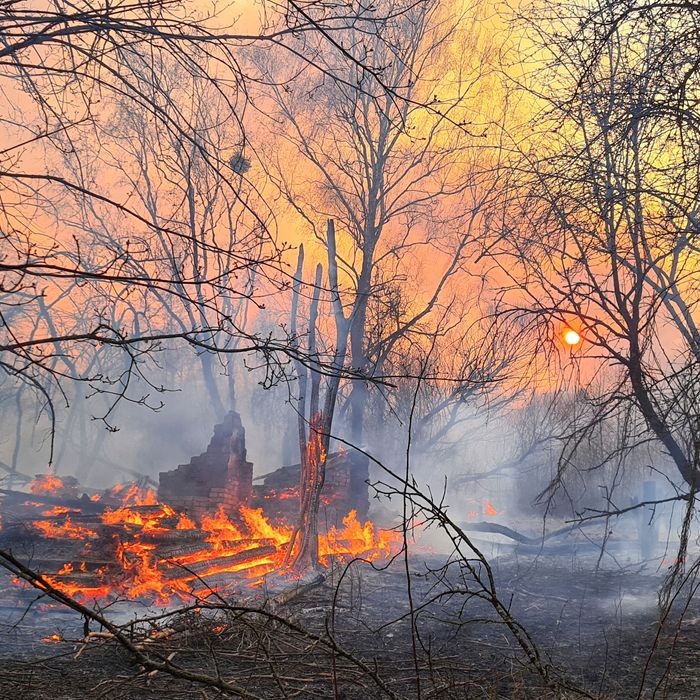 Chernobyl.
Photo: YAROSLAV YEMELIANENKO/EPA-EFE/Shutterstock
As the coronavirus pandemic dominates global conversation, it's understandable if some unrelated news stories slip under your radar. Maybe you missed that Michelle Williams got married in secret (again), or that Bob Dylan put out a 17-minute-long song about the assassination of president John F. Kennedy. Or perhaps you, like me, somehow managed to miss that an area near Chernobyl — the site of worst nuclear disaster in world history — caught fire earlier this month. And the fire rages on.
According to CNN, a major fire broke out near the village of Vladimirovka, located in the Chernobyl exclusion zone on April 4, which spread as wind picked up and carried the flame. The following day, Ukraine's emergency services reported that they had contained the main fire that covered 50 acres. But today, more than a week after the forests caught flame, firefighters are still struggling to to put out a large blaze that's burning through the exclusion zone, a roughly 18-mile radius around the site where one of Chernobyl's reactors exploded in 1986.
"At the moment, we cannot say the fire is contained," Kateryna Pavlova, the head of the agency that oversees the area, told the New York Times, adding that the fire is approaching the remnants of the nuclear plant. In the past week, the fire has burned through more than 8,600 acres.
Though this blaze is one of the biggest the area has ever experienced, forest fires are not uncommon in the region. "The problem of setting fires to grass by careless citizens in spring and autumn has long been a very acute problem for us," Egor Firsov, head of Ukraine's ecological inspection service, wrote on Facebook. "Every year we see the same picture — fields, reeds, forests burn in all regions." As of now, an official cause has yet to be determined, though it appears the fires didn't start from natural causes. Last week, the Guardian reported that police arrested a 27-year-old suspect who told authorities he set fire to the grass "for fun," though no developments have been reported. According to the Times, it's also possible that a farmer deliberately started a fire to clear stubble from surrounding fields.
Because the vegetation surrounding Chernobyl still contains some radiation, the fire has sparked concerns over radiation levels. In the area where the fire started, the radiation level last week was 16 times higher than normal. Sixty miles away in Kiev, though, authorities say that the radiation level in the Ukrainian capital is still normal.
This post has been updated.