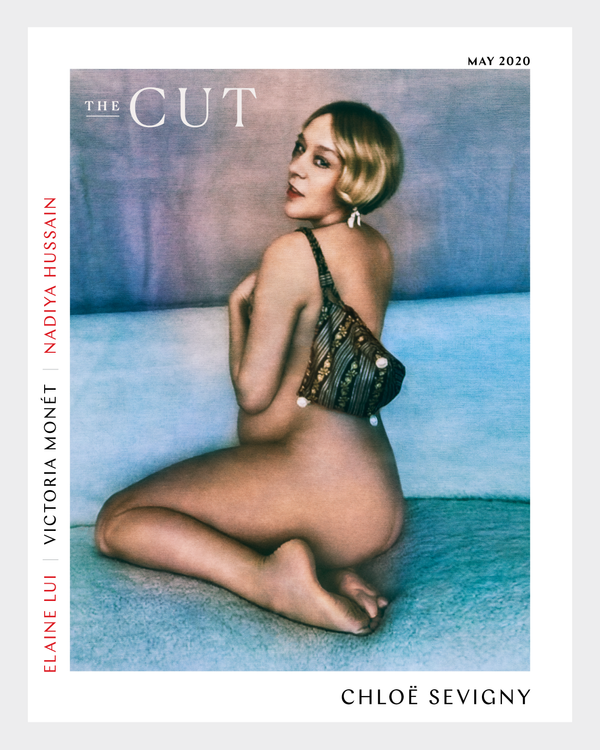 "This is so weird."
That's the first thing photographer Elizaveta Porodina and Chloë Sevigny said to each other when discussing their May cover-photo shoot, which was done entirely over Zoom. Porodina called from Munich, where she's been isolating with her husband, who happens to be her technical and lighting director. Sevigny dialed in from Manhattan, where she's been riding out the last few weeks of her pregnancy with her boyfriend, gallery director Siniša Mačković.
Global pandemic aside, video chatting is weird. It's both bizarrely intimate and eerily disconnected. Not to mention the fact that it can be so unflattering — Sevigny's biggest hangup, as she explained in an interview. Of course, the situation was not what either would have hoped for, but both felt compelled to make the most of it. Sevigny wanted a document of this moment in her life, and Porodina felt a need to capture it.
"When this whole madness started, I had a brief moment of panic," Porodina told the Cut. "I was like, How am I going to spend months without creating? This is an essential part of my life. I'm addicted to it. So I was really scared." But she and her husband started to play around in their home. They set up their equipment and ordered some more online. Eventually, they found a way to shoot remotely that wasn't obvious. "It's not a big trick to go online and take a screenshot of someone," she said. "The big trick is how can it be truly your piece that you're really proud of." For that reason, she's keeping her "tricks" a secret.
Porodina also felt strongly that the person on the other side of the screen had to share her creative instincts. "In this situation, the subject has a lot more control and much more artistic license than usual," she said. "They're going to be the one adjusting the camera. They're going to be the one making decisions." Sevigny played the role of location scout, hair stylist, makeup artist, costume designer, and on-the-fly creative director.
As an artist in her own right, Porodina knew Sevigny would make a perfect partner. "I've admired her work and her career and her as an artist and muse forever — since I started watching movies," she said. "And when I learned that she was pregnant and that she's in New York City right now, I knew it wouldn't be just another portrait shoot; it would be a documentary piece about a person who's living through a critical event in her personal life, during a crisis in collective human history. For me, as an artist, this is why I do photography: I want to document meaningful moments in peoples' lives."
The stakes were high, so naturally, nerves were involved. Porodina was afraid the internet connection wouldn't work, and that she wouldn't be able to connect intimately with her subject the way she normally would on set. But as soon as they started shooting, it was like they were in the same room together. "When I photograph someone, I just fall in love with that person," she said. "And you can fall in love with someone online or offline, it doesn't really matter. Even through Zoom, Chloë had so much charisma and energy. She exudes elegance, and a mix of something extremely sexy and intellectual at the same time."
You'd never guess the resulting images were taken over Zoom. "I wanted it to be as timeless as possible," she said. The only reason you'd know they were taken in 2020 during a global pandemic is because of Sevigny's baby bump. "This is where I feel more at home," she explained. "As a time-traveler, rather than caught in a specific moment."