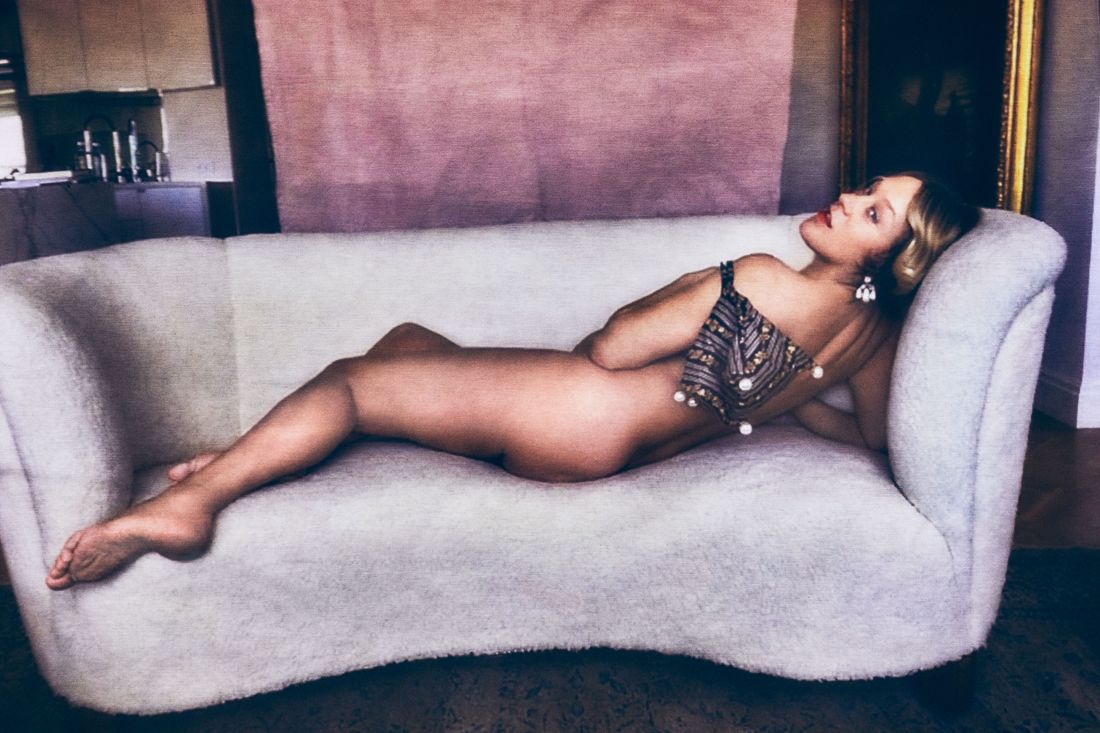 Until recently, Chloë Sevigny never wanted to participate in video chatting of any kind. "It's always so terribly unflattering," she said one afternoon from her Manhattan apartment, where she's been holed up with her boyfriend, gallery director Siniša Mačković, for longer than she can even remember. "I have friends who are younger than me, like in their mid-20s, and all they want to do is FaceTime," she continued. "I'm like, What is wrong with these people? But I guess they're really young, and they always look beautiful, so it doesn't matter." For the Cut's May cover, though, Sevigny, who is 45 years old and about to be nine months pregnant, made an exception, inviting photographer Elizaveta Porodina into her home through Zoom. "This might be one of my last opportunities to have someone else's eye capture this moment," she said.
Sevigny has always given off the impression that she knows how to live well in New York City. Even when she was an intern at Sassy magazine, she seemed wise — particularly tuned into what was happening downtown. Beyond her career as an actress, model, and designer, the perennial "It" girl has earned a reputation for having impeccable taste in everything and demonstrating it with intoxicating nonchalance. She shops at all the best stores before anyone's ever heard of them, smokes cigarettes with the misfits and the next big things, and floats from one scene to the next with unfaltering instincts.
Unfortunately, one of the brightest and most significant moments in Sevigny's life has converged with one of New York's darkest. But she's staying put. Just three weeks before her due date, we spoke over the phone about everything from her crush on Andrew Cuomo to sexting. And in case you're wondering, no, she's not baking bread or hoarding toilet paper; that would be trying too hard, and that's one thing Sevigny never does. 
How have you been faring these last few weeks before your due date?
Being pregnant, everything feels slightly heightened, but we did what most people did — we went out and got a modest amount of groceries and have taken it week by week since. I've been having a lot of swelling, so I'm trying to eat a cucumber a day. We also have an addiction to making Cha Cha Matcha at home, and we had a slight panic when we ran out. I have to say I did use my celebrity to try to get us some. I don't know if you're supposed to admit to this right now, but I did DM them, like, "How can I get some powder?!" [Laughs.] That was our one indulgence of being total assholes: We needed our matcha.
How have you been staying connected with people?
I used to say that I would only FaceTime with my nephews. It's always so terribly unflattering. Maybe I'm just vain and I don't know how to do it right. But, yeah, I've been FaceTiming with friends and that really helps. It's nice to connect, actually. But I'm not doing any Zoom parties.
Who have you been leaning on for support?
My best friend, Natasha Lyonne. She was supposed to be shooting Russian Doll season two, but all production has stopped. That was really unfortunate, so she's going through her own thing. We're just there for each other. I talk to her and my other close friends on the regular, and then my mother. The hardest part has been not seeing her, because she lives only 45 minutes away and we're quite close. She wants to be here. That's been hard, and then the day I was told that Siniša, my boyfriend, might not be allowed to come to the delivery. I had a super-panic attack and was crying uncontrollably. I have a doula, and she called me really panicked. She's supposed to be the calm in the storm, so hearing her really irate made it even more scary.
What do you do in these moments of panic now to help yourself relax?
I think I'm maybe in a little bit more of a fight-or-flight mode. I can't fall into feeling sorry for myself. It will harm me and my baby; stress is one of the worst things. I'm also just very practical. I tend to not let myself get carried away. Unless I'm heartbroken, and then of course I want to die. [Laughs.] It's a different kind of pain and grief, but I tend to really lean into that when that's happened to me throughout my life. And drink excessively and do all those sorts of things. But now I'm just trying to stay positive for my friends and my family.
I'm also one of those crushing-on-Cuomos. I know we're not supposed to be. I know his history is very spotty. But I will say, tuning in to those press conferences every day has been very calming for me. There's just something about his perspective, and the way he lays out the facts, and uses some sense of humor and personal anecdotes, I don't know, I find it very relaxing.
What have you been doing to keep yourself busy? 
We've been watching old Hollywood classics for escapism. We watched a couple Rita Hayworth films. She's pretty magical when she dances, like in Gilda and Cover Girl. We watched Pygmalion and Lady Eve. We tried one episode of Tiger King, but we couldn't do it. Also some Rachel Maddow every now and again. And I'm reading a lot of baby books.
Being an actress, I'm used to long periods off where I'm just fussing around the house being what I call "fake busy." Over the years, I've also gotten used to being alone on location. During my whole first trimester, I was in Italy filming We Are Who We Are with Luca Guadagnino and I was very lonely. But being here — in your own environment and not necessarily able to leave — is a completely different circumstance.
What do you do to feel less lonely?
I think it's just about finding your own company and being comfortable in your own skin and with yourself. When I was younger, so much of my identity was wrapped up in my friends. Being with them, I feel very empowered. So trying to find a way to navigate the world where I felt like I was enough on my own was a really important thing to do.
There's also that really good book about loneliness and New York City called The Lonely City, by Olivia Laing. It talks about the psychological impact and how you can get into this rut. It was a great read, especially if you're heartbroken — which is a different kind of loneliness, I think. Or if you're single. Right now, my heart goes out to all my single girlfriends — not having that outside stimuli, like flirting, or whatever, to help push you through. I keep asking like, "Are you sexting with anyone?" because that can really help as far as the dopamine release.
Do you have any advice for how to initiate a sext? 
One of my girlfriends says that once you start sexting someone, you have to maintain that level [of intimacy].  Who knows when they'll ever get out, but when they do, will [the relationship] go back to being casual? Is it worth it to try and go there? It seems like a tricky thing to navigate.
I would probably use an image as an opener. I'm not a verbal person. Maybe some emoji, you know. Keep it light at first.
What's your at-home style like? Have you been dressing up at all?
I'm trying! My boyfriend suggested that we have a dress-up day, but we never implemented it. Today, I put on mascara and he was like, "Ooh, did you put on makeup?" But it's hard, between corona and my state, to be fashionable. That's kind of gone out the window. I keep reminding him, though. I'm like, "People think I'm a really stylish woman!"
Norma Kamali has really helped me through this. She does all that stretchy stuff: flared pants, turtleneck dresses, all that. I bought four or five of her pieces and wore them throughout the whole pregnancy. The bodycon thing worked better for me than the tent thing. I'm also really obsessed with this brand La Fetiche out of Paris and Glasgow. I ordered one of their shirts for breastfeeding. Everyone was like, "You need shirts that button down the front." For some reason, I didn't have that many that were fitting over my very large, new bosom. Everyone talks about your belly changing, but your boobs really change the most. It's terrifying.
Because of the swelling, I also had to size up for comfort shoes that I can slip on and off. I got these slip-on Birkenstock Mary Jane shoes, which is really giving in to pregnancy style.
If you have to leave the house, have you been getting creative with your face masks?
I have an old Opening Ceremony hat with a mask, which my friend — his Instagram is @allmyhatsaredead — embroidered with a Grateful Dead bear. I wore that out a few times. I ran into the writer Hilton Als, and he took a picture of me wearing it.
The fashion industry is speaking about this moment as a potential reset. Do you think we need Fashion Week?
I remember after 9/11 there was a real reset in the film industry. All of a sudden, there were zero auditions and no one was coming here anymore. That was a hard blow. But that can also be really great for the environment. Like my boyfriend works in the art world — do people need to fly to these fairs around the world all the time? Their calendar is worse than the fashion calendar. The nature of both of those businesses is so excessive.
Of course, people are tactile and they want to see things and experience things. I'm going to sound like a total asshole, but going to a show and seeing the garments is very different from going on Vogue.com. I love the escapism of it all. I'm very sold on a story and a lifestyle. I can buy into that very easily, and I think a show is a big part of that. But I also think there's gotta be an alternative way. Scaling down is necessary and a very positive aspect of what's happening, in my mind. Maybe people will just reassess how they're living. Maybe less people need to go to the fashion shows? Maybe there don't need to be as many? I also just think there's too much product. There's too much turnover in terms of people wanting what's new all the time. I've been wearing vintage and consignment my whole life, and I'm so glad it's become more of a thing.
As a New Yorker, what has it been like to see your city go through this? 
My heart goes out to all my friends who own small businesses, and my brother, who's in nightlife. It's been really hard on him and all his employees. Of course, it's personal because he's my family. I'm trying to help different [small businesses] that I frequent, from my Pilates studio, to Superiority Burger, to whomever. I'm terrified for those places. There are already so many empty storefronts. Even with friends who I thought had fancy business, they're like, We have to start letting people go. Other friend's salaries have been reduced. That strain is so real and troubling. How does one navigate something like that, especially in New York — a city that's so expensive? I feel like the rich are just going to get richer off of all of this.
Do you feel a sense of grief at all toward the potential loss of New York City as we know it?
I just saw that Lucky Strike is closing. In the '90s I went there all the time. It was like the only place to go. I haven't been there in, like, 20 years. But I was walking by with my boyfriend recently and was like, "Oh, we should go to Lucky Strike more often." And then I saw the news. I'm curious if there will be a change [to New York]. I was listening to those girls on Red Scare talk about it. They're extreme. But will this weed certain [negative] aspects out? Maybe they're overly optimistic. But … Maybe? I had a friend say that he might come back to New York. He was like, "All the yuppie scum might flee."
Will New York ever be cool again? 
I'm sticking it out with New York. I've been here since '93, so I've seen a lot of things fall by the wayside that I loved and have to mourn. I feel like it's a constant mourning. But then we celebrate new things.
Do you hear the clapping outside at 7 p.m.?
Yes, I do. I was very frustrated because we would go to the market once a week and see people still playing basketball and stuff. I was just irate. I'm not going to call people out on Instagram. I'm not that person. But I just didn't understand. You'd see people congregating outside bars and getting to-go cups. The millennials, they just won't stop! It's the young people!
I have to ask you about the "until tomorrow" post you shared on Instagram during quarantine with you and Pauly D sitting next to each other at a Knicks game. Do you remember that moment or did you just rediscover it?
Well, I got called out to do the "until tomorrow" thing, which is so silly. I was scrolling through things that I could use, and I'm not necessarily embarrassed by that photo, but I do think my face looks pretty wack. I look like I'm trying to impress him, which I think is really funny. I had watched Jersey Shore, and I thought the whole thing was hilarious. But we didn't really engage that much. The nicest people I ever sat next to were Jay-Z and Beyoncé. They were the only celebrities that ever introduced themselves to me. So nice. And they ate junk food the entire game.
If you had 24 hours right now to go out in New York and do whatever you wanted, knowing that you would have to go back to social distancing, what would you do? 
Hopefully I'm not pregnant in this scenario because the answer is: drink like five martinis and smoke a pack of cigarettes. I know we're not supposed to promote smoking, but I do miss it. I'm very excited to get drunk with friends and dance at The Pyramid after the baby's out. That frivolous revelry that we used to participate in… Just being able to let go. I can't wait for us to go dancing and sing our hearts out and cry and twirl about.
This interview has been edited and condensed.