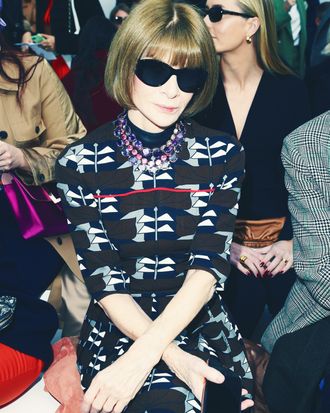 Anna Wintour.
Photo: Daniele Venturelli/Getty Images/2020 Daniele Venturelli
These are unprecedented times. These are unprecedented times. These are unprecedented times. It's the phrase of the moment, but it still rings true. Every day, the news offers another reminder.
On Monday, Roger Lynch, the CEO of Condé Nast sent a memo to its staffers across the globe announcing pay cuts for high earners and reduced hours for others due to "significant financial pressure" in the wake of the coronavirus pandemic. Effective May 1, those earning more than $100,000 will have their salaries reduced between 10 percent and 20 percent for a period of five months. These high earners make up "approximately just under half the company," according to the Times.
Executives in the senior management team — whose salaries likely well exceed $100,000 — will have their salaries cut by 20 percent. Of course, Vogue editor-in-chief Anna Wintour, one of the most powerful and highest-paid people in the company, is included in this category. At the same time, Lynch said he will take a 50 percent reduction in his salary. So will those members of Condé Nast's board who are not employed by the company but do receive compensation.
In addition to pay cuts, Condé Nast plans to reduce hours for certain staffers, specifically those based in Europe and the U.K., "where government programs and stimulus packages can help supplement employees' earnings." In his memo, Lynch added that layoffs are a "last option," but some role eliminations can be expected. Where available, relief programs and stimulus packages will also be explored for those laid off or furloughed.
Condé Nast would be one of the first major publishers to use government programs that have created funds for those affected by the pandemic, but is not alone in its cost-saving measures. Other media outlets have also announced salary cuts, furloughs, and layoffs, and some publications have even folded entirely. Vox Media, which owns the Cut, has not yet announced any major changes to its business, but is in the process of review. All of these actions extend beyond media and fashion as well.
"Companies around the world are all facing similar challenges and responding accordingly," Lynch wrote. "But that doesn't make this process any easier."