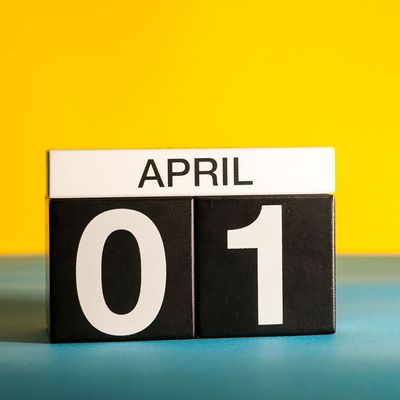 Photo: Bychykhin Olexandr/Getty Images/iStockphoto
I don't know who needs to hear this, but do not fuck around today. We are all too isolated, frightened, and edgy for pranks on this day, the first of April in the year 2020. Don't let me see you slipping up. My hobbies include holding grudges and making large pasta dinners to consume in self-isolation. And I'm all out of pasta.
It's not my favorite point to make, but some governments appear to agree with me, at least in principle. The New York Post reports that the government of Thailand issued a warning on Tuesday that "it's against the law to fake having COVID-10 this April Fools' Day." In some places, misinformation about the virus will be treated harshly any day. Taiwan's president Tsai Ing-wen said in a recent Facebook post that anyone spreading false information about the virus could face up to three years in prison and a $100,000 fine.
And guess what: Someone did the thing anyway. The New York Times reports that a Korean pop star known as Jaejoong, a member of the K-Pop group JYJ, told his nearly 2 million Instagram followers on Wednesday that he had contracted the coronavirus. An outpouring of sympathy followed, and less than an hour later Jaejoong logged back on to say he was just kidding. The wrath of his fans soon followed, with one responding on Instagram, "How can you pull a prank like this when the situation right now is so serious? It's really disappointing." Jaejoong soon deactivated his account.
I realize we all cope differently and it's hard to get attention when we're alone on our couches eating pasta out of measuring cups, but please don't try to be funny today.